From a far land, by means fair and foul, we learn this week that the FIA has yielded to pressure from the organisers of the annual Macau Grand Prix to enable the event to run the 'new' FIA F3 cars around those narrow bumpy streets. Macau, to make this happen, will carry out some improvements to the bumpy, freaky-fast street circuit that loops around the harbour front, dubbed by some as the Monaco of the East.
This is excellent news!
The sharp end of the field – which includes our own Marcus Armstrong, currently fourth in the championship – will relish the chance to run these beasts around that 6.3 km harbour circuit. There will be crashes. There will be disappointments. And for a handful there will be exultant fist-punches high into the air.
Macau is an amazing place to wander around. I went there in 1996 when it was still an independent state on the coast of mainland China, managed (governed) by the Portuguese as a colony.
Walking around the streets or the pit lane you could thus hear Portuguese, Mandarin, Cantonese (Xue) and "old boy" English language. You might order a beer in one of four or five local languages and dialects, or by my own tried and true method involving two, three or four fingers held up and a subtle nod toward the chiller.
This place is like Paris – sit on any corner at any café and eventually the whole world walks past. Especially true of the pit lane pizzeria (upstairs) or the rooftop bar where we spent our much-appreciated freebie media kit coupons on cold Coronas. Where we bumped into Aussie David Vervaart, fresh out of the two-car New Zealand Touring Car Championship Castrol Toyota Corona team and working for Zhuhai International Circuit on the mainland. Drinking Corona with Mr Corona!
The Western media who came to see the best in the world on the most challenging street circuit would always jump on a bus to cross the border into Communist China, just to get that red star stamp in their passports.
New Zealanders who take the time to consider where the race is held might feel a tad embarrassed by our couple of hundred years of modern history. Even the estimated 800 years of Maori history here pales when you walk on ground that has been trodden by humans for somewhere between 6,000 and 8,000 years!
Where the cultures and genes that have created this city in so many versions over its 6,000 years of human habitation have wrought an extraordinary subset of the 'Eurasian' features, all living in the shadow of the current ruler of the former colony: gambling. A Special Administrative Region of mainland China these days, it remains a last bastion of exotic Asian excitements. It is of course home to one of only two Grand Prix races allowed by the FIA to use that term – the other being our own New Zealand Grand Prix.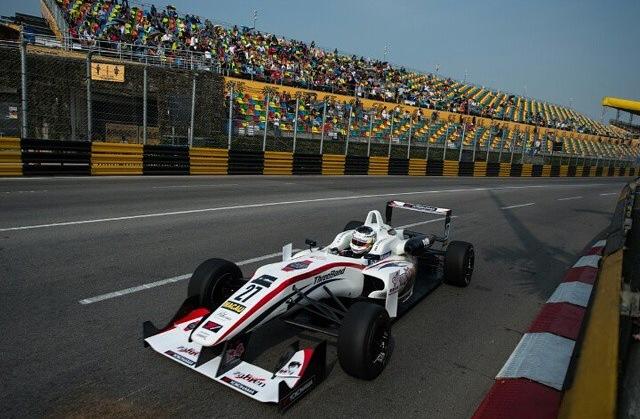 I was up there to carry the sticks (aka enormous wooden legged tripod) for my mate Daine, who was there to film Gianfranco Brancatelli in a one-car Ford Mondeo entry for Malaysian fuel company Petronas.
We stayed at a massive tower hotel, a four seasons or similar, with a bar on the ground floor and restaurants on several levels going up the tower so you could dine in the evening and have a different view of the city every time. Checking in, there were workers replacing some of the massive compressed marble panels that lined the walls.
A porter standing nearby told me – quietly – that it was a 'gambling matter'. Oh, really? I enquired.
"Yes, one of our regular guests was in debt and unable to pay despite being asked several times. He came over from Hong Kong, and would always stay with us, but they found out he was coming and two men walked in shooting guns. Terrible for the staff."
Not so nice for the guy with a series of new belly buttons either I should imagine.
I didn't ask who 'they' were but leave that to your imagination.
Nothing as exciting happened to us, except I had my first Asian concussion when we got to the room and I clambered out from under my burden to flop gratefully on one of the beds, which turned out in typical Asian style to be slightly harder than the floor. I ricocheted off the wall, back onto the bed and rolled off the side onto the floor, groaning.
I'd barely dropped off to sleep when the AmEx we were booked under bounced at 0400 am due to a dateline miscalculation that mean we were a day 'early'. A polite call from reception, a sleepy phone call back to sleepy NZ and then another back to reception and things were sorted until later that morning when we could get sense of what had happened.
Macau. Sometime home to naughty Irishman Eddie Irvine, one of the few Formula One drivers who knew when to step away. Contrary to his public image as a club-hopping wild boy – an Irish James Hunt perhaps – he was a property millionaire before he reached F1. Eddie had (probably still has) property in Macau, and met his ex-partner Maria Drummond here. It's that kind of place – playboy-friendly if you like. Eddie first raced here in 1988 (DNF), and three years later was in Formula One, racing for Eddie Jordan.
Small world though– his step up to F3 came as a result of winning a Marlborough-backed F3 drive competition. The team he raced with was none other than Kiwi Dick Bennetts' West Surrey Racing.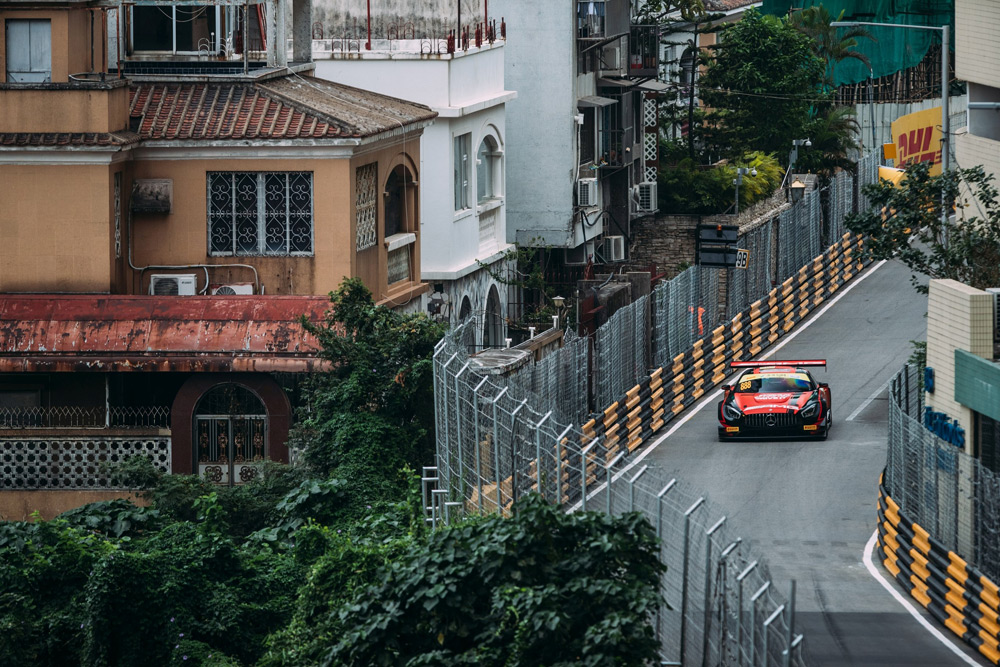 This race is like no other. Setting aside the scarily narrow street circuit and the unforgiving rock, Armco and concrete walls that crowd close to the racing line, everyone who is anyone in driver-spotting and management is in pit lane or having dinner with the people in the know.
The sights and sounds are unlike any other. Invest in a flight – major carriers all go to Hong Kong, we flew Qantas back in the day and got bumped to Business Class – and you can land directly in Macau these days – and the images come at you hard and fast:
– Drivers wrestling their cars through the insane 180-degree-plus Melco hairpin, with its equally loony downhill exit that drops the cars like a freight elevator onto a downhill straight where they can return to top speed in seconds, faster than the drivers can shift gears – especially back then, as there were no fancy paddle shifts in those days. Compare the speeds of 1996 with the speeds of the new millennium – the cars of last century look like Formula Fords with wings!
– Drivers returning to the pits with a new shiny edge burnished into their wheel rims, looking for that tiny, tiny fractional advantage over their rivals, or with the vertical surface of a sidepod ground away to dust. I saw eventual winner Ralph Firman do that in practice and then in almost the same spot during the race, and get away with it both times. Luck or fine judgement, I could not say. Also racing that year were Jarno Trulli and Nick Heidfeld.
– Five, six, even ten cars smacking the Armco at the famous/infamous Lisboa hairpin on the opening lap or lap two of a race or even just in practice. Cold tyres, cold brakes, hot blooded drivers desperate to stay in the leading bunch.
– Cars touching wheels at 200 km/h or more on the front straight, jousting for position and tearing at the side pods of the car beside them. Three wide down into the first corner. Impossible, and yet…
– The juxtaposition of Macanese street life with the glitz and glamour of F3 and the big Guia touring car race. Old men repairing shoes on the street, tap-tapping away while the movers and shakers of the racing world stride into and out of their hotels. Tinkers plying their trade from doorways, selling teapots and spoon sets and intricately decorated cutlery. Tiny finches and canaries for sale in beautiful gilt cages alongside plastic tat unworthy of a $2 shop. Open air butcheries with whole sides of beef or pig – just point out the cut you want and they slice it out for you there and then. Wet markets crammed full of fish you've never dreamed existed, boxes of crabs still alive with their massive claws tied shut. Chefs pulling noodles or making dumplings and dim sum in tiny streetside restaurants.
But back to the show.
The 1996 race was not really a marquee affair, the talents on show have had their shot at the big time and gone on to careers in endurance racing and other disciplines. No Eddie Irvines, Ayrton Sennas, Not even a Tiff Needell to have some fun with. No Kiwis back then, largely because Toyota Racing Series was just a glint in the eye of a couple of people at Toyota who dared to see things as they could be and ask 'why not?'
I didn't care. My first time in Asia, my first F3 race and the first time I'd seen the Audis and BMWs of the World Touring Car Championship up close in their glory. I was well pleased.
There were those who thought the FIA's move to take closer control of the Macau GP might signal its doom. I'm pleased to say the reverse is very obviously true. The racing continued at white hot intensity in the top classes and the names continued to come. November eh, there's not much else to do for a racing driver looking to stay visible to the talent spotters and team managers.
Now fast forward to 2019 and the news the cars will be bigger, faster, wilder than before and you just know the Grand Prix is going to be epic.