Toyota New Zealand re-confirmed their commitment to New Zealand motorsport last week and their on-going support for both the Castrol Toyota Racing Series and the Best Bars TR86 Championship. With the global uncertainty ahead for motorsport schedules, TNZ CEO Alastair Davies penned a letter of certainty for their ongoing participation in New Zealand. Talkmotorsport columnist Mark Baker called it the 'most important media release of the year, bar none'. But the elephant in the room, for both series and out of TNZ's control, is New Zealand's current border security and how that hurdle is to be overcome.
In this unprecedented time, one could be excused for slipping out the back door without saying goodbye. The Covid-19 pandemic, its consequences and economic impact on the global economy is creating huge changes in society, communities, business and sport.
For TNZ to make such a commitment gives true definition to what manufacturer support in motorsport is all about. Too often 'manufacturer support' is bandied around the paddock. Prize money given, a successful competitor receives a 'free' car, and so on. We have a history of car manufacturers' that have come and gone from their initial support and enthusiasm for a certain category. Maybe it stems from an over enthusiastic marketing manager eventually running out of budget or moving up the career ladder? Many don't continue the momentum.
The key test of that support is how a manufacturer reacts when the chips-are-down! It's the same in each of our lives, 'who are your mates when times turn bad? Now that the going has gotten tough, Toyota have reaffirmed their commitment for the future.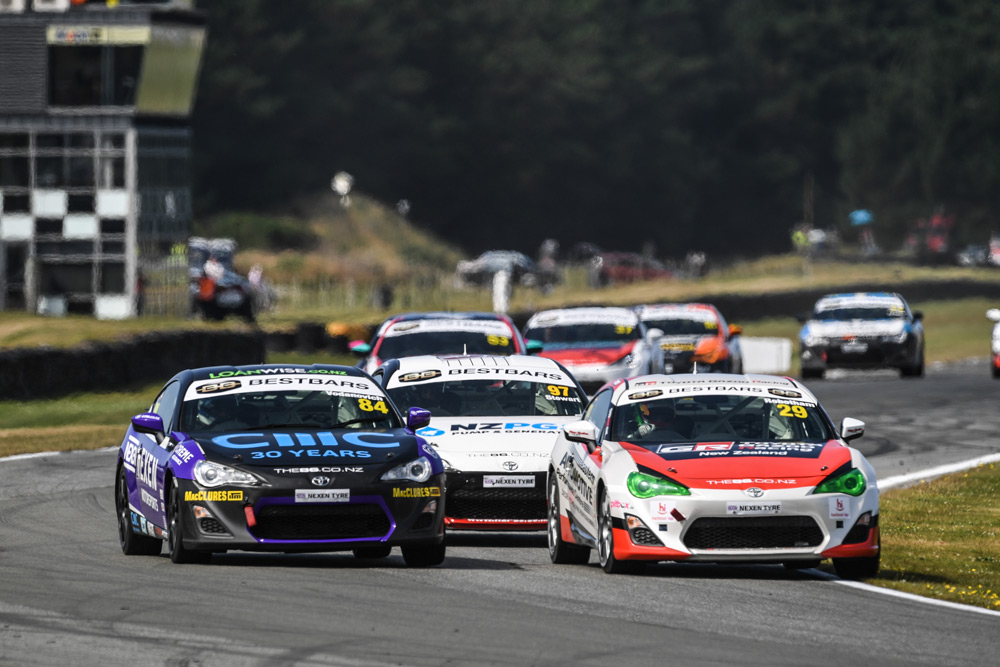 The Best Bars TR86 Championship has three title contenders with one round to play for. Unfortunately, one of these drivers, Jaylyn Robotham, lives in Australia and is very keen to compete in the final round, even if that means spending two weeks in quarantine in a NZ hotel room. Speed Works, at this stage is looking at hosting a round at the end of August for BNT V8s, V8 Utes and the TR86 champs.
Then there is the 2021 Castrol Toyota Racing Series which gets underway in early January. The bulk of the field has historically come from international drivers making the trip down under. A 2021 series would struggle to get underway without bringing in a large contingent of international drivers, supporters, team members and family across the NZ border.
I asked Toyota NZ CEO Alastair Davies, why pen an open letter?
"There has been a lot of speculation. We want to be committed to Kiwi motorsport and give this assurance and say, hey, we are here to support NZ motorsport and give certainty and surety. We are about finding the next Kiwi world champion and the intention for TRS is to give the opportunity for Kiwi drivers to elevate themselves onto the world stage just like the Tasman Series in the late 1960s early 70s."
And what about the current restrictions which see only Kiwi residents able to cross the border?
"It's too early to answer that definitively," he replied. "Toyota is also very much involved in the America's Cup which is faced with a similar problem.
"Because of the timing of TRS, we have time on our side. We might find that people are keen to come here after Christmas and quarantine ready to race in mid-January.
"We may eventually open our bubble to Australia as well. There are a variety of options which won't be settled for a couple of months."
TRS management has also historically spent time overseas in their off-season talking with drivers and teams throughout the globe while competing in the various racing categories in the US, Asia and Europe. With the impact on international travel, this probably won't take place.
Davies points out that over the years they have built a solid network of relationships throughout the world. "While we may not get in front of people, we can use those connections that Nicolas Caillol (Toyota GAZOO Racing NZ manager) has already established. It's great to meet with people in person, but given the circumstances, we are confident that we can carry on without having to travel (during this time)."
How the next seven months will unfold is really in crystal-ball territory. I doubt that our government can say when border control will be eased, as there is too many factors and variables still at play. This may yet be the determining factor on what lies ahead for both the TR86 and TRS championships. At least we know that we have true manufacturer support for these series and for Kiwi motorsport in finding our next world champion.