Current Weathertech SportsCar champion of America Earl Bamber of New Zealand is one of the busiest men in motorsport. While media will tell you of his exploits in foreign lands, beating the world in true Kiwi style at almost every track he competes on, there's so much more going with this ambitious, talented and benevolent young Earl of Whanganui.
Most people reading this will be aware of his early success in kartsport, the Toyota Racing Series and A1GP for New Zealand. And of course, his meteoric rise through the Porsche ranks from Porsche Carrera Cup double champion in Asia, then Super Cup champion in 2014.
He then followed in the footsteps of Chris Amon and Bruce McLaren winning the Le Mans 24 hour outright in 2015. He followed this up with another win for Porsche in 2017 with Timo Bernard and fellow Kiwi Brendon Hartley.
That combination also brought Earl his first world championship title as that same trio went on to win the 2017 FIA World Endurance Championship for drivers.
These amazing achievements would be suffice for any driver in retirement to look back on and realise he raced and beaten the best in the world. However, in Earl's case, he's only just begun.
His success with Porsche was achieved in just seven years.
In July he turned 30 years young and is showing no signs of slowing down in his passion and ability to be one of the greats.
Currently second in the WeatherTech Sports car championship defending his 2019 title, the first half of this season may not have not gone to plan. Only a fool would count out Bamber and co-driver Lauren Vanthoor not to bounce back in the second half of the season and capture back to back series wins. I caught up with him between VIR and Road Atlanta where again, things didn't quite go to plan.
"To be honest our season has been really topsy- turvy," Bamber said. "It's been great that IMSA have got us back racing in 2020 during COVID, but it's very strange without the fans.
"The start of the season went well with a couple of podiums then the last couple of races we've had no end of bad luck with getting hit and breaking the diffuser. Then getting caught in another with the rain. Both times we were in a position to win the race.
"The new car is great though and we're second in the championship. We just need one of these races to go our way. We will win one of them."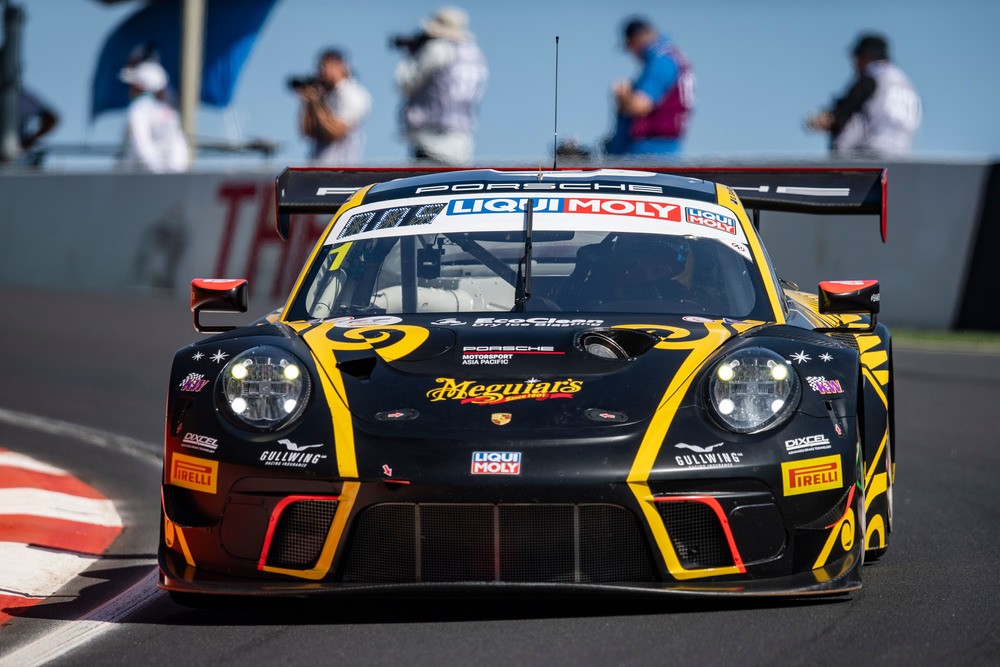 But that's just the tip of the iceberg for what's going on with team Earl.
Last year his newly formed race team "Earl Bamber Motorsport" won the prestigious Bathhurst 12 hours on debut while Earl nervously watched on in the garage. At the time the team was only 11 months old.
That led to plans of running five cars in Carrera Cup Asia and another two cars in the Thailand Super Series.
"We're also looking at putting together a GT3 programme at the moment for customers and we'd like to go to the Nations Cup, to the IGTC races at Suzuka and Kyalami and to Macau with customers. That's a goal.
"We have people interested to join on the back of Bathurst and we'd like to try to do something with Asian Le Mans too. We've looked before at doing something with the Cup cars and it's still on our radar."
That kind of a program would be a whirlwind for most of us, but for men of speed time slows down and they are able to take everything coming at them fast and with ease and that's exactly what Earl is doing.
Reid Harker is his latest protege and it should be an inspiration to young single seater TRS or 86 drivers that feel their journey may have come to an end.
"We started in 2018 with Carrera Cup Asia and 2020 would have been our third year if it ever gets going and GT3 racing at Bathurst.
"It's a hobby in a way. I love building cars and playing with them and I can also try to give some good feedback and steer the team in the right direction from what I've learned at the highest level with Porsche. It's really great to have Porsche as a partner.
"In the future we've got some cool initiatives and we are trying to put together a scholarship programme for young Kiwi drivers to make it easier to leave New Zealand like I did and head to Asia. Hopefully to get into the Carrera cup and GT3 and eventually even the Super Cup.
"Working with the Giltrap group and other sponsors in New Zealand it's coming together and this year we have Reid Harker, who of course did the Castrol Toyota Racing Series. Unfortunately the pandemic has put everything on hold for now."
Asia is special to Earl as it's where he got his early break and he is not about to forget the chances he got back then. He now wants to give back to others and give them the chance to get up the racing ladder with his team.
Earl and I first met while I was commentating Formula BMW Asia when he was just 15 years-old. Earl would win his first race then come into the commentary booth still in his overalls and do colour commentary on GT and touring cars and then head back to the pits and win another couple of Formula BMW races as he wiped the floor of a couple of up and coming Australians, Sam Abay and a certain Daniel Ricciardo. He won that 2006 season with ease.
I knew then that Earl was something special and more importantly was willing to use every chance he got to further his career and succeed. So I for one am not surprised he's doing so much with his own career as well as giving the opportunity to others through his own team.
"It's been a great journey. I've been so fortunate to find a home with Porsche and go on to win the likes of Le Mans twice. Now, with my own team you get even more satisfaction seeing young drivers grow, but also engineers and mechanics as well and that very satisfying. Its wasn't something I expected to get out of it but it's something I have really enjoyed."
Now tighten your belts as the "Breakneck Bamber Bonanza Bus " is a rolling elsewhere at Speed. While all this in motion, Earl showed up to the historical home of NASCAR, "Daytona", a couple of weeks ago and took on the NASCAR Xfinity championship with Richard Childress Racing. The first Kiwi to do it.
"It was amazing, a dream come true and a big thanks to Chevrolet ,KCMG, and Richard Childress . It was so difficult with no practice.
"The first time I drove the car was on the warm up lap and the first time I used the gearbox and shifted was coming off the start. We started 29th and actually made it up to second at one point, but struggled on the longer runs.
"The thing you find out is your biggest enemy, you learn, is "wheel hop". It's insane. What that means is the hop of the rear transmission or rear solid axle as it is shuddering underneath you. You have to try and manage it and that is really, really difficult. When it happens you have to wait 5 or 6 seconds while you head off the track. Plus the heat was excruciating and I still have a burn on my foot, but I loved it."
So how does it compare to V8's?
"People think that NASCARs are big mundane things, but they brake pretty good, the power is phenomenal and they do good things like a normal race car does. It's hell of a lot of fun.
"It's a shame these days in the state-of-the-art cars that have paddle shifting etc, that the craft of driving is gone as it does everything for you. However, in a NASCAR, you've got a lot of power and you're managing the the throttle cos you can spin the wheels up. These an old H-pattern gearbox where you have to blip the throttle perfectly. So the knowledge you gain from just one race is awesome and its so nice to go back to an old school set up without anything to help you.
"The best way I can compare it too from everything I've driven is like driving a V8 Supercar on wets (tyres) in the dry."
Now hold the back page as here's a "Talkmotorsport" exclusive as Earl has now got the NASCAR bug and wants to do more.
"I wish I could do it again, but in the end it's all about sponsorship and stuff like that. I'd like to go back and give the road courses a go so I'm trying to get a package together to go back and do more races.
First I need to finish off IMSA and see if I can drum up some sponsorship at the end of the year to do it."
So it seems that the Spirit of the "Bruce and Denny Show" is very much alive and it seems that Alonso's leap into Indy and off-road has inspired Earl and many others.
Seven-time NASCAR champion Jimmy Johnson is headed to Indy as it seems that New Zealand's Scott Mclaughlin, Australian James Daivison will be doing both NASCAR and Indy while Americans' Santino Ferrucci and Conner Daly recently took on the Chile Bowl in Midget racing.
So what about Earl. What else is on "the bucket list" which now seems is OK to start at just 30 years old?
"There's still plenty on the list – There's the Spa and Nurburgring 24 Hour as well as ticking off the other big races of the world. I really want to win the Bathurst 1000.
"I wound up Jackie Ickx, who I see at all the Porsche events and said I want to win Bathurst as it was something he hadn't done. I didn't do my research and it turns out he has won it (1977 with Allan Moffat – Ford XC Falcon GS500 Hardtop). He thought it was hilarious."
So watch this space as Earl Bamber is just starting his quest to do it all.
"Recently of late, people are crossing different disciplines which hasn't happened for many many years. Alonso to Indy and Dakar, McLaughlin to Indy and single seaters, having only done V8's. It shows that if you are good in something you can be good in anything and reiterates to people and reminds them that you can be a multi skilled driver. It's what we want to do as drivers, as we all learn something from our career, from trying these different disciplines."
So who knows what's next for the "Bamber Bandwagon"? Either way, it's worth a watch. I know to be here in the States and watch these great Kiwi's perform is awesome and the Americans love them.
The idea of Scott Mclaughlin taking on Jimmy Johnson and Fernando Alonso at the 500, and who knows maybe even Earl too.
"It would be really interesting to do the 500 one day, but also a really difficult one as I've never attempted oval racing. I'd need a lot of practice, but love to give the road courses a go though."
"I feel for Scott Dixon as he's on the final furlong of becoming the greatest of all time in Indy. Why can't all these young "bucks" with their Formula One and Sports car titles leave him be so that he can fulfill his quest to become the GOAT. (Greatest of all Time).
My take away from all of this is if you are or your family are racing in Formula First or Formula Ford in New Zealand right now, keep chasing your dreams.
Or if you are in Best Bars Toyota 86 series or about to do the Castrol Toyota racing Series next year keep going. Even if the money is tight and you think you might be coming to the end of your journey, don't give up.
The Benevolent Earl of Whanganui has got your back and knows exactly what it feels like to hustle up the ladder day in day out. Earl is a "Megastar" now, but he has been working all his career to do whatever it takes to keep going and get the breaks, becoming a great Ambassador for New Zealand Motorsport.
Now with Earl Bamber Motorsport he's creating initiatives to raise sponsorship opportunities for other Kiwi's to make that jump into international motorsport.
So stay tuned motorsport fans the Earl "the Pearl" Bamber story is just getting started.