More years ago – seriously – than I care to remember, when it came time to graduate from the sport's Junior to its Senior ranks one of New Zealand's stand-out young karters – Ryan Grant from Auckland – made the then controversial move to the then new KZ2 'gearbox' class.
At the time, the conventional wisdom was that direct drive classes were the only proper ones, and that 'gearbox' karts were for better off in the hands of older, more, experienced drivers.
It was an era, of course, when the sport here was very much inward looking, and the only Senior classes contested regularly at even regional series level were 100cc Yamaha Light & Heavy, Club class (also based round the ubiquitous Yamaha KT100cc engine) and Open.
Sure, you could try and acquire the sort of highly tuned reed-valve induction 100cc engine used in the World Karting Championship up until 2006 however these were 1) expensive to buy 2) finickity to run and tune, and 3) only ever used at major Sprint National, Island title and CIK Trophy of NZ meetings.
Fortunately, the advent of a new set of regulations for an all-new split category (KZ & KZ2) to replace the venerable Intercontinental C changed the landscape of KartSport – at home in Italy as well as well as the rest of Europe, and – perhaps surprisingly – way down here in little old NZ.
What you got for not a lot of money was a quick, reliable, electronically-function-managed, liquid-cooled 125cc engine/6-speed gearbox spec which specialist kart engine manufacturers like IAME and TM have now built in their thousands.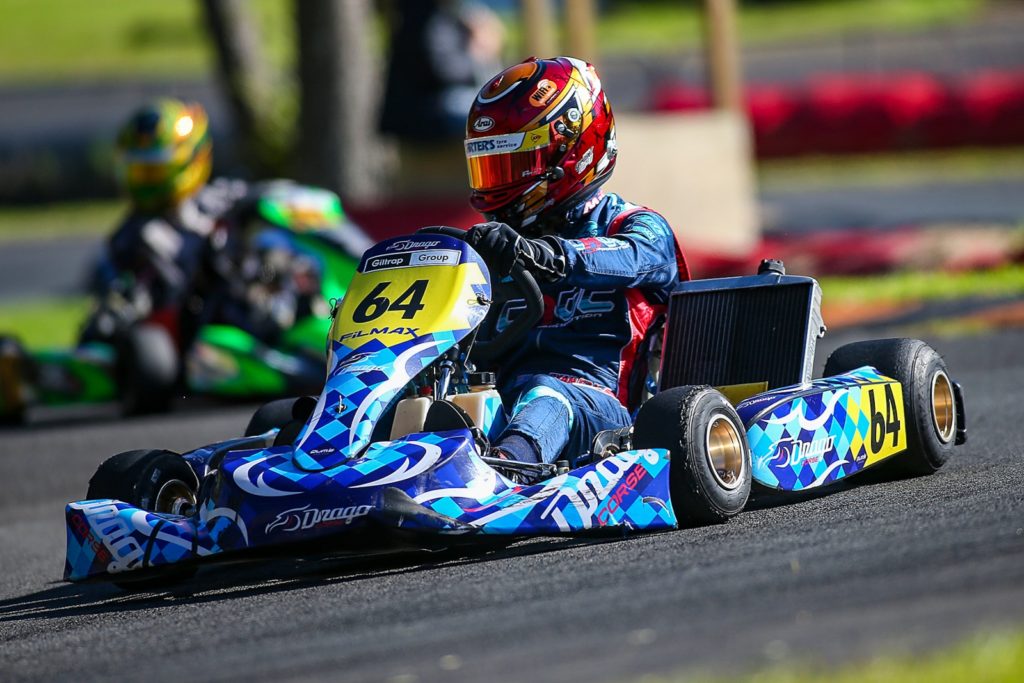 Back in the day, of course, Ryan Grant was not the only Kiwi karter to see his (or her) future in what hitherto had become real 'fettlers' class (Open), one where many of the incumbents spent more time 'in the shed,' than they ever did at a kart track.
This, of course, is fine if your ambition stops at the end of your driveway. However, for a new generation of drivers who – thanks to the internet – were finally being exposed on a regular basis to the sport as it was conducted elsewhere – which meant, taking every little part of process of 'going racing' more seriously than ever before.
Helping drive this sea change was Italian-born Auckland businessman Danny Olla, who started importing karts and engines and set up a KZ2 class-based team to promote the success of these products
Grant was the obvious choice as lead driver – and is still if not THE, at the very least one of the pacesetters in the class, 18-going-on-20-years later.
It was at just 18 years-of-age that Grant earned his first local title as a Senior, claiming the Open class 'gong' in a KZ2 kart at the North Island championships meeting over Labour Weekend 2003.
Barely six months later he won his first NZ #1 Senior plate(s) at the 2004 NZ Sprint Nationals meeting over the Easter weekend, winning both the Open and the Formula 125S classes.
In January 2005 meanwhile he won the ICC class at the annual CIK Trophy of NZ meeting
He was back on the top step of the podium in the (finally!) renamed KZ2 class at the CIK Trophy of NZ meeting in January 2007 before going on to claim the premier KZ2 class title across the first of the multi-round (in this case Eaton Fluid Connectors-sponsored) 'Shifter Series' which continues to this day as private promotor Steve Brown's successful Giltrap Group-backed Pro Kart Series.
Since then, Grant has gone on to win the KZ2 class title across the ProKart series a record 6 times. He has also won the KZ2 class at the North Island titles meeting a further three times, and the NZ#1 title at the annual Sprint Nationals at Easter twice more as well as the KZ2 class title at the CIK Trophy of NZ a further 4 times.
Oddly enough KartSport NZ's decision to 'let KZ2 in' not to mention the immediate and enthusiastic acceptance of the category as a sort of democratic version of what before has been an area of endeavour few Kiwis were prepared to put time and energy into, saw us leap frog Australia spectacularly – a fact proved when, way back in 2009, seeking greener pastures Ryan and Danny crossed the Tasman to compete in what the locals in Geelong were claiming was going to be a showcase of the fastest karts in Australasia.
Instead, it turned into a showcase of a fast Kiwi running rings around a bunch of under-prepared Aussies…
By this stage of course several other high-profile Kiwi karters had voted with their feet – and wallets to join Grant et al in the KZ2 class.
Mat Kinsman, who is currently dominated the ProKart Series is one driver who appears to have discovered Ryan Grant's secret to success.
Another to make an immediate – and very positive – impact, as Grant's fresh-faced young lieutenant no less, was yet another talented top former Junior, Graeme Smyth.
In just his first full year (2008) behind the large flat-bottomed steering wheel and distinctive steering shaft-mounted 'column' gear shifter 'wand'of a KZ2 kart, the Auckland teen claimed thirds at KartSport NZ's National Sprint championship meeting, and at the CIK Trophy of NZ meeting.
Then a year after that (2009) Smyth earned the #1NZ plate at the KartSport NZ Sprint Nationals before finishing a close second to erstwhile teammate Ryan Grant – in 2010…
If Ryan Grant is the most successful KZ2 class driver on the domestic front, then Daniel Bray has got to be the Kiwi who has made the most of opportunities afforded him by local success in a truly international category.
Like Ryan Grant and Graeme Smyth, Bray was an early convert to the KZ2 class. In his case, however, a racing trip to SuperKarts USA's annual SuperNationals event in Las Vegas saw his focus move to the US first and their 250cc moto crosser-based 'gearbox' class, S1.
For 10 years – from 2008 to 2018 in fact – Bray jetted between his home base in Auckland and karting venues permanent and temporary across the US, Europe, and Australia as he plied his trade as a professional driver.
In that time, he raced against many of the world's best, including a memorable clash with a then 15-year-old Max Verstappen at the second round of the 2013 CIK-FIA European KZ2 Kart Championship at Genk in Belgium.
Bray certainly enjoyed his share of success on both sides of the Atlantic, winning the SKUSA Pro Tour S1 class title in 2011, and finishing 3rd in the CIK-FIA's International KZ2 SuperCup event in France in 2013.
Arguably his greatest achievement, however, has been the setting up of his business, N-Zed Motorsport. As well as importing and distributing several different brands of karts, parts, and accessories, Bray also offers a full engine building and maintenance service via his Split-Second Race Engines division.
He has also successfully morphed from driver to driver/mentor over the past 3-4 years, working first with Kiwi-born Aussie Porsche racer Jaxon Evans (the pair finishing the 2014 Pro Kart Series in first and second places respectively in the KZ2 class) and more recently with 2021 Castrol Toyota Racing series champion, Matthew Payne, who has been signed by new Repco Supercars Championship Team Grove Racing, to lead the team's new Junior squad.
Rather than leaving the kart scene for cars early (a la Scott Dixon & Andre Heimgartner) Bray felt that Paynes's ambitions would be better served by heading back to Italy and – literally – karting every day.
Which he did…and the results are there for all to see!