Robbie Stokes and co-driver Amy Stokes have convincingly won the 2021 Lone Star Canterbury Rally, despite a failing alternator at the end of the final stage. The family pairing won all the previous six Special Stages of the one-day event but limped out of the final stage in the Ashley Forest, with concerns that they may not make it to the controlled finish in Christchurch.
"We lost heaps of time with the alternator problem and was concerned about making it to the finish," commented Stokes. "Otherwise it was a perfect day. Really happy with how the car went."
Stokes was to contend the event in his father's Ford Escort but made a last-minute switch to his Ford Fiesta AP4 car in which they are competing in the NZ Rally Championship.
The rally was the third round of the 2021 Mainland Rally Championship which saw Michael Tall/Matt Richards (Mitsubishi Mirage) second home ahead of Marcus van Klink/Dave Neill (Mazda RX8) and Jeff Judd/Alex Parkin (Ford Escort RS2000).
"It's been an awesome day," commented Tall. "I loved the roads, the car was great and I never expected to finish in second."
"First in Class and third overall, not bad for a two-wheel-drive," said van Klink. "It was tricky as the grip level was all over the show. No dramas with the car so great to get a result."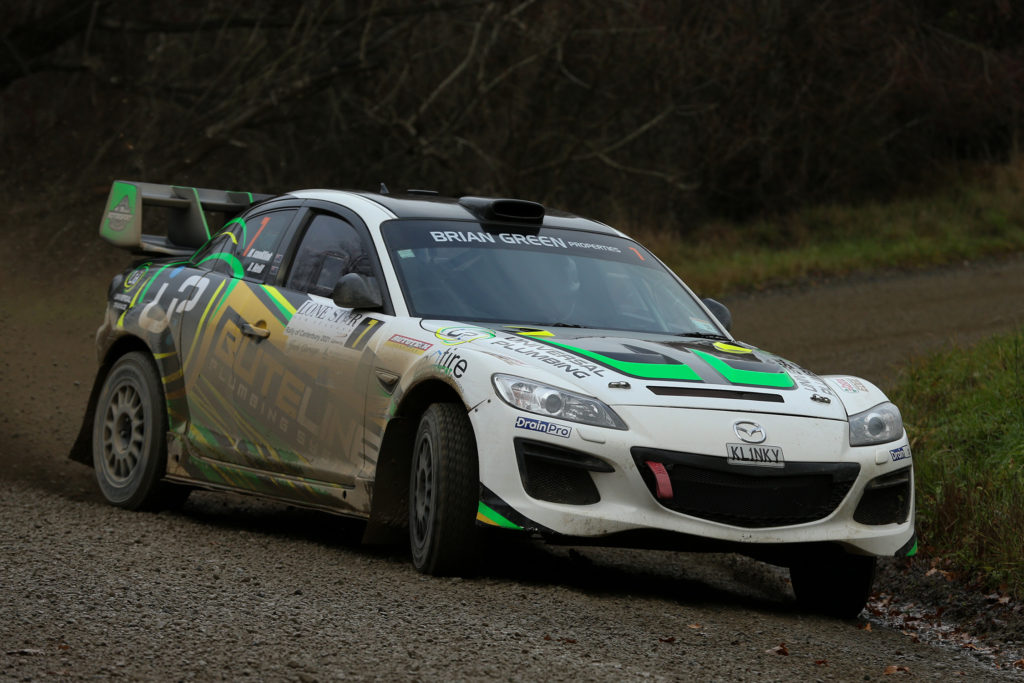 Drama struck the 59-strong field early on the opening Special Stage with defending Mainland champion Josh Marston/Andrew Graves (Holden Barina AP4) retiring with a fuel pump issue.  Also retiring after nudging a tree was NZ speedway star Michael Pickens/Stephen Lloyd (Toyota Corolla DX).  Making his rally debut at the event, Pickens would re-join the rally later only to have a mechanical issue forcing permanent retirement.
Second quickest in the first four stags was Stokes' national rival Matt Summerfield/Nicole Summerfield (Subaru WRX).  Back competing in their older Subaru, the Summerfield's had to battle first a gearbox issue then a broken gear shift lever and lost time to the top of the field, eventually finishing in sixteenth.  While admitting that the day had been character building, the Summerfield's did win the final run through the Ashley Forest, Special Stage 7. 
Autotech Services, RDL Performance and Brita Safety have put up $500 for each Class winner at the end of the Mainland Rally Championship season. Vehicles are divided up into six different classes according to engine size, year of manufacturer and two or four-wheel drive.
First home and now first overall in Class A (2WD 0-1300cc) was Chris Herdman/Rachel Chadwick (Toyota Starlet) ahead of Marty Roestenburg/Pat Norris (Toyota Vitz).
Class B (2WD 1301-1600cc) was won by Jonty Brenssell/Tania Cresswell (Toyota Starlet) ahead of David Birkett/Jack Birkett (Toyota Levin), the latter continues to lead the Class overall.
Marcus van Klink (Mazda RX8) now extends his lead after winning Class C (2WD 1601cc and over) and with rival Deane Buist/Karle Celeste (VW Golf) retiring out of the final stage.
Stokes also picks up the win in Class D (4WD 1601cc and over) and leads from Sean Haggarty (Subaru WRX). Haggarty had his 13-year-old daughter, Bella, making an impressive debut as a co-driver in her first rally and first pace-noted event. The pairing finished seventh overall.
Jeff Judd takes the lead in the Classic Class F from David Owen (Ford Escort RS2000) and James Macdonald continues to lead Class H (Subaru H6).
At the halfway point of the Mainland Rally Championship, Stokes has a 36-point lead from Haggarty, followed by van Klink, Macdonald, Summerfield and Westland Rally winner John Giltrap (Mitsubishi Evo 9). Giltrap had been strong all day but retired out of the final stage with a mechanical problem.
Next up for the Mainland Rally Championship teams is Rally South Canterbury (19 June), followed by Rally Hanmer (25 September) and either Catlins or Lawrence Rally (T.B.A.) (15 November).
Lone Star Rally Canterbury Results (Top 10 overall)
1/ Robbie Stokes/Amy Stokes, Ford Fiesta AP4
2/ Michael Tall/Matt Richards, Mitsubishi Mirage
3/ Marcus van Klink/Dave Neill, Mazda RX8
4/ Jeff Judd/Alex Parkin, FordEscort RS2000
5/ Ray Wilson/Donna Elder, Subaru Impreza WRX
6/ David Clearwater/Andrew Oakley, Mitsubishi Lancer
7/ Sean Haggarty/Bella Haggarty, Subaru WRX
8/ Paul Cross/Janey Blair, Subaru Impreza H6
9/ Job Quantock/Grant Marra, Skoda Fabia AP4
10/ Wayne Pittams/Michele Brunt , Ford Escort Mk2
2021 Mainland Rally Championship Overall Points (Top 10 after 3/6 rounds)
1/ Robbie Stokes 83
2/ Sean Haggarty 47
3/ Marcus van Klink 44
4= James Macdonald 41
4= Matt Summerfield 41
6= John Giltrap 38
6= Jeff Judd 38
8/ Ray Wilson 36
9/ David Birkett 30
10/ Paul Cross 29