It's not the main game and some may see it as a side-show. So why will 30 drivers turn up this weekend at the Mike Pero Motorsport Park in Christchurch to compete in the Wigram Revival round of the 2019/20 South Island Formula 1600 Championship?
At stake is the Wigram Cup. While the Lady Wigram Trophy stays in the cupboard for the top NZ single seater class, the Wigram Cup has been competed for since Leroy Stevenson won it in 1998.
The meeting has attracted some top drivers such as James Penrose who currently leads the 2019/20 NZ Formula Ford Champs. Two-time winner of the Cup, Josh Bethune, makes a one-off return to the South Island champs in order to win for a third consecutive season. He's one of six North Island drivers who will line up on the grid.
The field also includes 1990/91 New Zealand Formula Ford Champion Andy McElrea who will drive his original winning Van Diemen RF88. That season he won seven pole positions and finished 13/14 races on the podium including seven race wins.
Sounds an easy season? It was just the opposite as McElrea explains:
"The 90/91 season was amazing because it was one of the most competitive in recent history. There was Murph (Greg Murphy) and Ashley Stichbury in their first national championships. Other hot shots at the time included Mark Pedersen, Phil Hellebrekers and Garry Croft and for the first time we had Graham Lorimer's huge team come from the UK. He brought with him Jonathan Harmer, Jason Courage (son of Williams F1 driver Piers Courage) and three Japanese drivers.
"Lorimer had done a deal in the UK to insure the risk of one of his drivers winning the NZ Formula Ford International series with the prize being a fully funded season in Formula Renault for 1991. So those guys, particularly Harmer, were absolutely focused on winning by any means necessary.
"I'll never forget meeting Lorimer before the first round and he shook my hand then said "I hear you're quick, but you won't win the championship, mark my words."
"As it turned out they had their lawyers scour our rule book before they came over and they found a typo which altered the meaning of some of the engine rules. They waited until Bay Park, which was the second to last round, to protest the top NZ cars, me, Crofty, 'Mork' Pedersen and Chris Abbott. They even had Margaret Thatcher's (the UK PM) son Mark there, who was a QC in London.
"The stewards conceded the NZ cars were illegal by the 'new' interpretation of the rules, so they asked Lorimer's cars to pull their engines down too, so they were also disqualified for the same reason as us!
"In race 1 at the last round at Pukekohe, Harmer put Crofty and I in the fence at full noise near the end of back straight which ripped two wheels off my car and we didn't have any spares. Mark Pedersen, who was behind Harmer, then chased him down and punted Harmer off to help neutralise my points loss.
"John Crawford was running my car with help from my mates John Evans and Paul Cruickshank. In the two or three hours between races there were around 20 people working on my car from the other Kiwi teams and we just made the race with the officials sending the pace car out to clean off some imaginary debris off the circuit etc, to give us the precious minutes we needed to get the wheels pointing almost straight and make the start. So needless to say it was quite a relief to win the championship by one-point."
"The car I'm driving is the exact car that I won the championship in. What is very cool is that although the car owner Steve Foster sold it after the '91 championship, five or six years ago he convinced the owner to sell it back to him. He then had it restored and put back into our championship livery.
"The RF88 was a very good car but as history has shown, the new RF91s that the Lorimer team had were far superior. Mark (Pedersen) had a new Mondial and Crofty had a new Swift but they also weren't as good as the RF91. The only reason we won the championship is that we got two or three South Island Formula Ford rounds in to get our race fitness up and sort the car before the national championship started, so we grabbed a bunch of points early then just did our best to race as aggressively as possible with the newer cars once they were sorted mid-season."
And that has been a tradition until this year. Top national Formula Ford contenders have for many years come down to the South Island to compete in their series in order to get race fit and some practice on the southern circuits.
The car was originally bought by Foster for Grant Milligan to race in the 1989/90 Formula Ford champs. McElrea drove a RF86 that season finishing fourth overall.
His first attempt at the NZFF title came in the 1986/87 season when he drove John Crawford's winning Reynard FF84, finishing third to eventual winner Shane Higgins (Van Diemen RF86).
However, Foster gave the RF88 to McElrea to drive in the 1990/91 season.
"Winning that championship changed the direction of my life so to enjoy driving the car very slowly, is a great way for Steve and I to recall those days and how much it meant to us to get that title."
McElrea went on to win the 1996 TraNZam Championship having finished runner up the previous season. He now runs McElrea Racing based in Yatala, halfway between Brisbane and the Gold Coast. His team has gone on to achieve success in the Fujitsu V8 Supercar Championship, Porsche GT3 Cup Challenge, Australian Mini Challenge, Bathurst 12 Hour and Porsche Carrera Cup Asia. So why go back to Formula Ford?
"This weekend is a great chance to catch up with my folks who both still live in Canterbury and it's a rare opportunity to have a run with good mates Tim Miles and Nigel Barclay. We all raced and partied together in the mid-eighties.
"Tim (Miles) and I have been best mates since we were playing with our toy cars in the dirt at Ashburton Car Club events as youngsters. My dad was competing and Tim's dad Alan, was a steward. Turns out he was more interested in my sister than me, but that didn't work out for him!
"Again, Stu Barclay and dad were mates back in the day, so Nige and I have also been mates for over 40 years, since we were collecting coke bottles in the pits at Timaru. Same goes for Leo Leonard and his son Mark. And nowadays Mark's son Tim is best mates with my son Hunter, Tim's daughters, etc and so it goes through the generations!
"In addition, a decent part of our racing team in Australia includes the development of talented young drivers, and hopping back in to a race car every now and then is a very good reminder to me how hard it really is to go properly fast!
"I still believe Formula Ford is the best category in the world to train young drivers how to drive 'on the slip', race aggressively, learn mechanical sympathy, have respect for other cars, and be on the right path to a professional career.
"That's why I told my son Hunter he needed to win a Formula Ford championship before he tried to move up the motorsport ladder. The category is absolutely as important as it used to be, but there are more options around these days so some folks get distracted and don't realise the value of Formula Ford.
"To me the bottom line is: if a young driver truly aspires to a professional career, they need to succeed in Formula Ford first."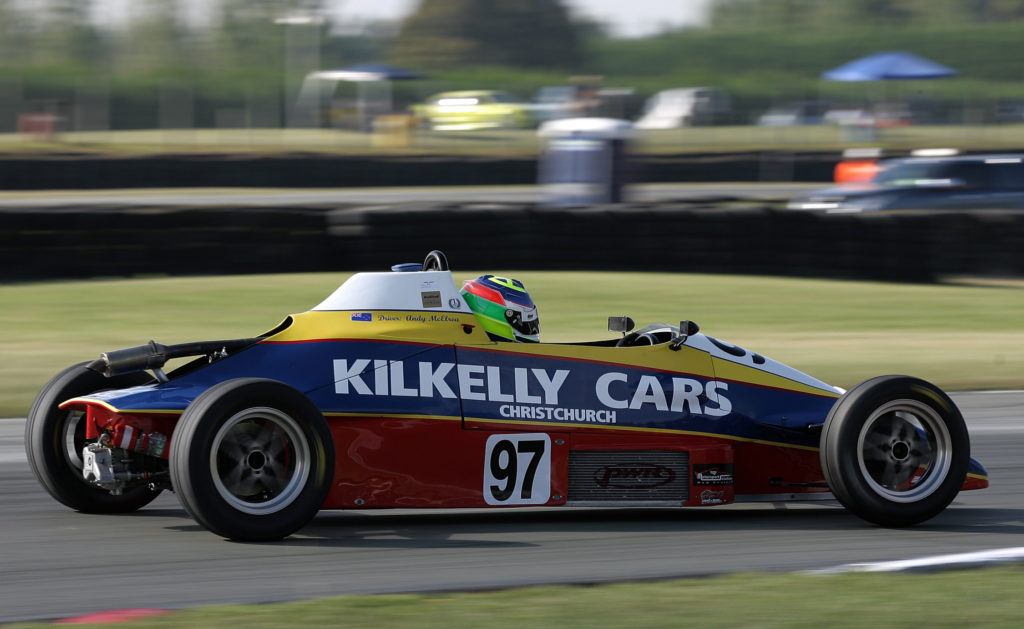 There will be 30 different reasons for competing this weekend in the South Island F1600 Championship round. There will be a handful that have a chance at winning a race and even the Wigram Cup. Most in the field will be there for the passion and love for the category and a great day out.