The 2022 NAPA Auto Parts New Zealand Formula Ford Championship concluded last weekend (1 May 2022) with the overall title heading to Southland with 15-year-old Alex Crosbie winning the eight-race format over two rounds. This is off the back of a six-round Yokohama South Island Formula 1600 Championship (SIFF) and a five-round Giltrap Group North Island Formula Ford Series. Yes, Covid has had an impact on motorsport this summer, however there are some real positives to come out of the season.
In just his second Formula Ford season, who would have thought Alex would be national champion. He piloted a Van Diemen RF93 in the 2020/21 South Island series, finishing 12th overall and ninth in Class 2 (1990-1999). The interesting point is that he finished every race – no retirements or incidents!
Come the 2021/22 season, he and his team had a brand new Ray GR21 chassis. In the 17 SIFF races, he scored no points in only one race and finished no less than sixth in all the others, including seven podiums. This gave him third overall and second in Class 1 (post 2000).
So, what have we learned from the 2021/22 Formula Ford season?
The passion is still in the category
There is no doubt about it, the passion for Formula Ford is still alive and well in the category. We have plenty of new Formula Ford chassis on the grid and more heading our way. There are an increasing number of young drivers (mostly moving up from kartsport) joining both the North and South Island series. The national series has a title sponsor – NAPA Auto Parts, Yokohama have, this season, sponsored the South Island while the Giltrap Group have sponsored the North Island Series.
The Tony Quinn Foundation in conjunction with the Hampton Downs New Zealand Racing Academy have made both cash prizes available for every Formula Ford qualifying session and travel money also available for drivers and teams. Toyota GAZOO Racing NZ have made opportunities available for testing both their FT 60 and TR86 cars.
Don't be surprised to see Ford back in Formula Ford in the near future as well!
The racing is still top-notch
No matter how many new drivers we have turn up on the grids each year, we get some fabulous racing. This season has been no exception. Th level of competition and the intensity of it is one of the reasons why the Formula Ford category has been going for more than 50 years. What other single seater category, outside Formula One, is as successful as Formula Ford where there are so many different chassis on the grid. While other categories have gone to a controlled one-make chassis, Formula Ford has not changed and it still provides a very equal playing field.
'The Stealth is still a quick car
The 2021 NZ Formula Ford Championship was won by James Penrose driving a Van Diemen RF93 Stealth. Heading into the national championship, 'Perfect Penrose' had already won the South Island Formula 1600 Championship where he led every lap of every race at every round. Come the national series he didn't have it all his way with rival Matthew McCutcheon, also in a Stealth, fighting all the way through the three-round series.
The Stealth is viewed as an old car. They are still quick with Liam Sceats campaigning McCutcheon's car this season in both the North Island and national series'.
However, if you were coming into the category, why would you go past a brand new or near new Ray chassis.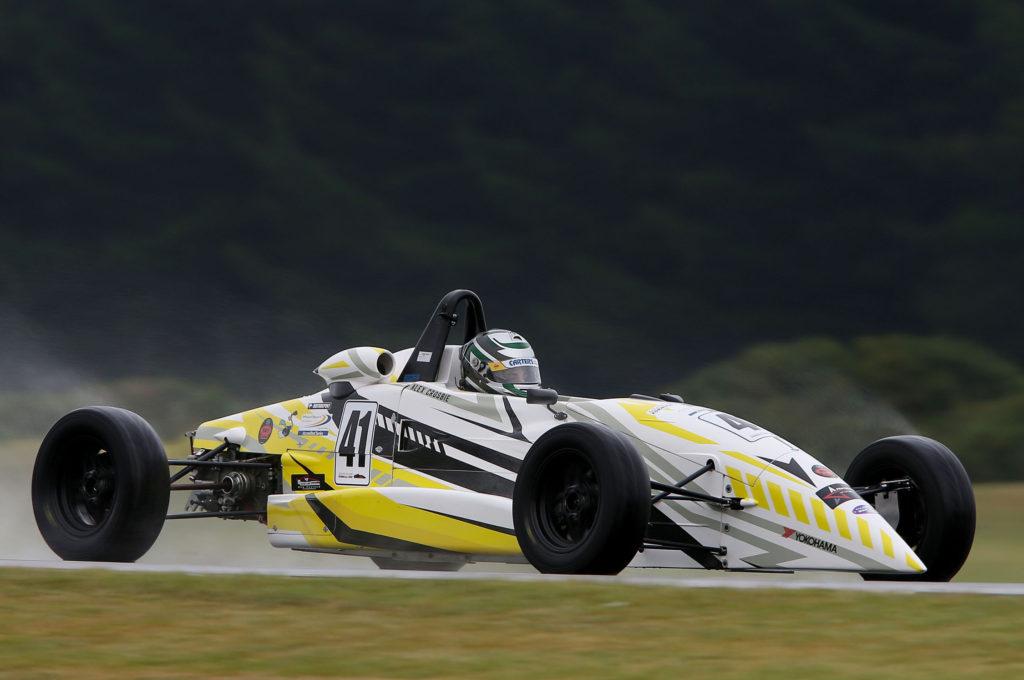 Finishing is the key to winning championships
Why did Alex Crosbie win the NZ Formula Ford title? Simply because he was quick enough and he not only finished every race but also finished every race on the podium. While his two main rivals, Zac Christensen and Liam Sceats were quicker and won more races, each failed to finish just one race, and this dropped them down the points table.
With one round to go, Hayden Bakkerus currently leads the Giltrap Group North Island Formula Ford Series(NIFF) and is likely to have enough points to take the title. Yet in the 12 races so far, he has only won the opening one while Bree Morris and Liam Sceats have between them, won the last seven.
Bakkerus has not only lined up on the grid for every race, he has also finished them all while Sceats and Morris have only scored points in six and eight races respectively.
Reliability is key to finishing
This follows straight on from finishing being the key to winning any series. Reliability is essential. Your equipment must not let you down.
While the Stealth has proved itself to be quick enough against the more modern Ray and Spectrum's, there are those in the paddock who would say that the down side is that you are dealing aged equipment – old wiring looms, carburetors, radiators, piping, fuel pumps, hubs, brake calibers, lines, etc etc.
North Island drivers need to come south
There are two reasons why a North Island driver, with aspirations on winning the national Formula Ford title, needs a program that brings them south to compete in the South Island Formula 1600 Championship.
First, they get to know new circuits. If you want to make the cut in any category, then a key factor is a driver's ability to learn a circuit very quickly and immediately be up to speed.
Second, they need the competition that the southern series offers and the intensity that can go with it.
Who was the best performing North Island driver at the final national round in Christchurch? It was Bree Morris. This is because she has been coming south for the last two seasons and has gained both the track knowledge, the competition experience and the confidence to fight for podiums.
South Island drivers need to head north
South Island drivers need to take part in the NIFF in order to get to know their circuits. Again, its all good learning and if they are serious about being a national champion, then this is important. Plus, you get to know your North Island competition better on their home circuits.
Both Zac Christensen and Alex Crosbie headed to the first national round this year at the Taupo International Motorsport Park, Taupo, having never turned a competitive lap at the track. Both came away very happy with their results (Christensen and Crosbie finished all four races in second and third respectively). Now with hindsight, if they had previously competed in Taupo, could they have beaten Liam Sceats at his home track and got more runs-on-the-board? The 2022 national championship was only decided in the final race of the series, highlighting the importance of maximising points right from the start of competition.
While arguably the best Formula Ford competition this season has been in the South Island Series, the NIFF will only get better. We see more drivers in the category this season, they are now well organised and encouraging both drivers and technicians to get involved.
Bring on the summer of 2022/23!