Hmmmm, yes, well, here we are in (yet) another countrywide COVID-19 Lockdown, one – as I write – it would appear those of us domiciled in the 'mighty 09' (Tel calling area) are in for the long haul…or at least another fortnight, whichever comes first.
Which – not to put too fine a point on it – is a bit of a bugger, though considering the alternative (a long, slow, lingering descent into unconsciousness and eventually death brought on by a fever and dry, hacking cough) is not that bad.
I'm not sure where special interest websites like Talk Motorsport fit into the essential businesses criteria but I do know from my now previous job editing NZ4WD magazine that after being effectively snubbed into a form of government sanctioned oblivion only days after the first Lockdown last year, intense lobbying by the Magazine Publishers' Association has meant that the production of news magazines like The Listener is now considered an 'essential service' and as long as the printers and distributors are operating to strict social-distancing criteria then publishers are 'good-to-go.'
Seeing how websites take the idea of contactless communication to the next level entirely you'd imagine that the owner and publisher of Talk Motorsport (Benjamin Carrell) could do what he bloody well liked with the site. However, life is rarely that simple.
What I do know, is that since this latest Lockdown started I have found myself with the time to actually read some of the posts on various Facebook fan sites I have 'Liked' and joined over the years; in fact it was a post by a fellow 'fan,' Mike Norris, on a Facebook 'page' simply called 'South Island Motorsports' which prompted me to come up with the idea for this very column this week.
In a contribution dated 23 August Mike covers off the history of what he calls 'the most successful racing Valiant Charger in the world,' the familiar Mustard-coloured E38 of accomplished Mid-Canterbury racer Jim Little (main picture).
I say 'familiar' advisedly; surely though the car must be familiar to at least two, possibly three, generation of enthusiasts like my good self who was a regular attendee at car race meetings up and down the South Island from – I guess – 1973 until 1996 or 1997.
Jim was your archetypal hard southern man, yet he obviously had a soft spot for the E38, choosing never to sell it and to race it (albeit with some fairly long breaks in between while be built and raced other cars) from 1978 until the mid-2000s.
Which got me thinking…along Ken Smith lines. Ken, obviously, is the gold standard, entering, running competitively, and finishing his 50th New Zealand Grand Prix race earlier this year.
That, surely, is a record that is never going to be broken. Yet in saying that Ken can't be the only bloke or blokesse here who has – for instance – held a MotorSport NZ competition licence over the same unbroken period, can he?
I'd have thought not…. particularly with the likes of 'Racing Ray' Williams still not only racing at every opportunity but still running at the pointy end of the field at major classic racing meetings and in open 2KCup and NaZCAR race meetings at 75 years of age.
Again, he can't be the only Kiwi who has an unbroken record of competing here for the magic half century either can he? Or, for that matter, the only Kiwi who started in one car, and – like MOPAR man Jim Little, or Invercargill's favourite son Burt Munro with his famed Indian Scout V-twin and Velocette big single motorbikes, chose to maintain and constantly fettle it over a lifetime, rather than use, discard, and upgrade as it would appear is the modern way.
Which, again – or at least I think anyway – has the makings of at least two columns; this one in which I pose the question, and a second one in which I publish your answers.
What I need, you see, is help…help in identifying the 'good buggers' out there who, 1) have been racing – pretty much non-stop for the past – let's see, say 30, 40, 50 years… and 2) of that group who has done so in the same car.
I'm sure we'll get – what? – at least 12-15 suggested names for the first part of the quest – after all, by using a cut-off of 30 years that goes back to 1991, the year of the first SKOPE Classic. And by that reckoning I'd have to vote for a bloke like Christchurch's Grant Silvester – who must have been demoing his late Dad Ron's incomparable Chev V8 coupe at Skope for that long, as well as racing Mazda RX7s and later TraNZams at open meetings.
Seeing as how he has won the SAS Autoparts MSC NZ Tasman Cup Revival series three times of late, plus enjoyed a career in a TraNZAm before that AND owns and still runs the original 'Electric Blue @ 180mph) PDL Mustang, I'm thinking that Dunedin contractor Steve Ross has probably been racing for at least 30-something years. As definitely has his SAS Autoparts MSC NZ F5000 Tasman Cup Revival Series sparring partner Russel Greer.
Greer is in fact the archetypal racing enthusiast, owning, maintaining, and actively using the unique locally built chain final drive Stanton Corvette classic sports car as well as the ex-Graeme Lawrence Loala T332 Formula 5000.
Exactly how long he has been racing is something I have never asked him. But again, I'm sure that someone out there has a better recall over such things than I do.
To the question of the driver sticking to the same car, the strength of the South Island's classic scene is evident in the fact that – though I still need it independently confirmed – I'm fairly sure that Christchurch car dealer Bert Govan has been running the same immaculate turned out Jaguar MK 2 at classic race meetings since (well) before the first Skope Classic until today, a record that I believe he could well share with Jagaur E-type driver Jeremy Stace and Daimler SP250 loyalist Bryan Ashworth.
Oddly enough I seem to be struggling when it comes to drivers domiciled in the North Island, despite living, working, and doing the Lion's share of my driver and series PR from an Auckland base for the past 30-and-counting years.
Ken Smith and Racing Ray Williams cannot be the only blokes still as enthusiastic about getting up in the morning and heading out to the track though.
For instance, Graeme Cameron is still racing at an international level – both in the Historic Touring Car and Historic Formula Ford classes – 35 years after he kicked off a second wind career in Touring Cars in 1986.
Earlier he had enjoyed considerable success racing Formula Fords in Canada and the US before returning home and taking a break from the sport to establish himself in business.
Just to show that I am not just focused on circuit racing too, I can think of one other driver if not already there at least getting very close to celebrating 50 unbroken years of competition – and that is rally ace Brian Green.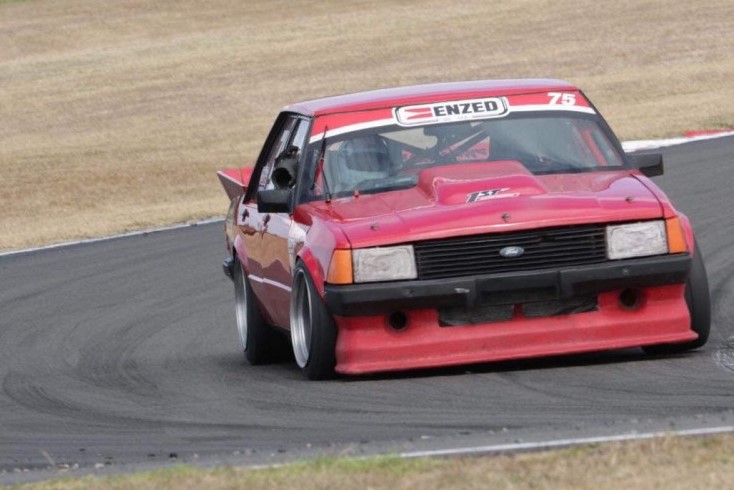 Finally, if the North Island has a 'Jim Little-esque' character who you immediately associate with a single – absolutely iconic – car it would have to be the irrepressible Dean Perkins from Pukekohe and his self-built 'fire engine red' XD model Ford Falcon 'muscle car.'
But surely that's enough from me. It's your turn now. Let's celebrate the OGs (you know, the 'Old Guys') of our racing community, and recognise them for their achievements……be they in any number of cars like Brian Green or (largely) just the one like Jim Little.