He was already competing full-time in the V8 Supercars Championship with Stone Brothers Racing in 2008 but made the trip back home to compete in the annual One-Hour race run by the NZ Formula First Association.  He had competed in the NZ Formula First Championship in the 2004/05 season finishing third overall before competing and winning the NZ Formula Ford title the following season.  Here's Ross MacKay's race report from the One-Hour Formula First race…..
Close but no cigar for van Gisbergen
It was a case of 'close but no cigar' for Stone Brothers Racing's V8 Supercar tyro Shane van Gisbergen at the New Zealand Formula First Association's annual One-Hour race at Manfeild on Saturday.
The 18-year-old who drives the #97 SP Tools Ford Falcon for Stone Brothers Racing in the 2008 V8 Supercar championship, was in the leading bunch with just three laps to go when his car slowed suddenly then stopped with what turned out to be a pushrod problem.
It was an unfortunate end to the race for the young Kiwi, who had lapped the 3.33km Manfeild circuit up to 1.5 seconds quicker than any of the other drivers in the wet practice session on Friday and was one of three drivers vying for the win when his car's engine cried enough.
The annual One-Hour race is one of the most popular fixtures on the New Zealand Formula First (nee Vee) Association's annual fixture calendar and carries serious bragging rights – hence van Gisbergen's desire to return from his new home on Australia's Gold Coast to compete in it.
The 18-year-old got his career break in the New Zealand Formula First category after winning the annual SpeedSport magazine scholarship – which offers winners an all-expenses-paid season in a Formula First car in conjunction with top team Sabre Motorsport – in 2004.
With fellow New Zealand young gun Andrew Waite and 2007/08 recipient Richie Stanaway, he was one of three Speedsport Scholarship winners to return for the 2008 race.
Stanaway went on to win the race from Matthew Stubbs and Simon Evans. Evans' younger brother Mitchell was also in the running but spun late in the race.
With the New Zealand Formula First Association celebrating its 40th anniversary over the weekend van Gisbergen was one of 18 drivers and over 100 current and former drivers and associates gathered in Feilding and Palmerston North for a weekend of activities.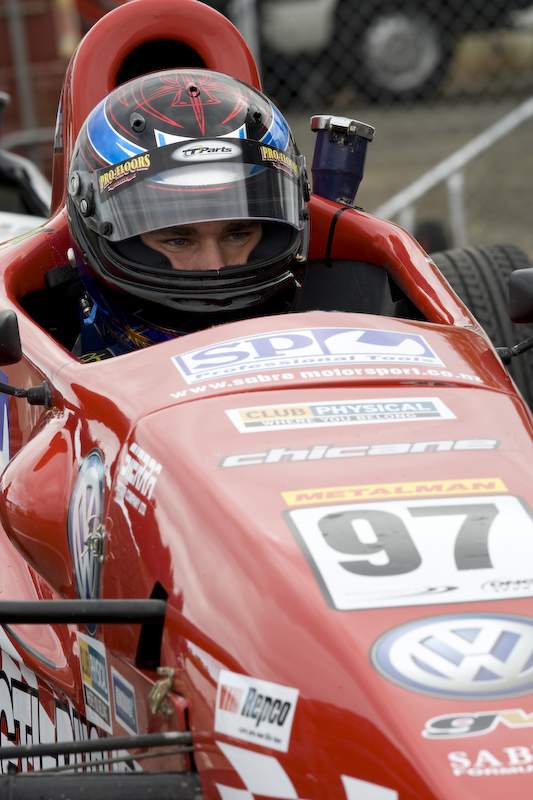 Of the weekend van Gisbergen said;
"Overall it's been a lot of fun and it's been good to come back and see everyone. It was a bit of a shame the way the race panned out, but I guess that means I'll just have to come back again next year! The three of us (van Gisbergen, Stanaway and the second of the Evans brothers, Mitchell) were pretty even and when the engine went I was just sitting back watching Richie and Mitch to see what they were going to do on the last lap."
And of returning to his racing roots, in a car which could not be more different to the SP Tools #9 Ford Falcon V8 Supercar he said;
"You'd think it would be easy but they're just so different they take a bit of getting used to again, particularly the way they react. When the Supercar steps out it does so fairly slowly, but with these cars it all happens pretty quickly so you've got to be ready for it."
Stone Brothers Racing's young gun now heads back across the Tasman to prepare for the fourth round of the 2008 V8 Supercar championship at Perth's Barbagallo Raceway this weekend.
See also: (Formula) First among equals