Crosslink/Kiwi Motorsport punching above their weight a long way from home
When I first started coming to New Zealand to commentate the Toyota Racing Series almost a decade ago I was told about the small team from Nelson called 'Victory Motor Racing', who were, I was informed, punching well above their weight in the series. They were getting the odd victory here and there in a championship that was beginning to gain a world renown reputation, attracting the top up and coming drivers from all over the globe. 
Victory Motor Racing has been part of the Toyota Racing Series since its inception in 2004.  The team is co-owned by Guy Griffith and Garry Orton.

During its time in TRS it has been an important stepping stone in the careers of drivers that have gone on to make to the top of motor racing as well as helping the careers of Kiwi drivers like Brendon and Damon Leitch. 
Daniil Kyvat- (Russia) the first graduate from TRS to make it all the way to F1 stands out as a major highlight for the team.
Brendon Hartley- (NZ) went on to become two-time WEC champion and 24 Hours of Le Mans winner and now the ninth Kiwi to race in F1.  Again, an outstanding achievement for the small family run team from Nelson.
More recently in  2017, they went all the way with affable Aussie driver Thomas Randle beating the bigger teams and taking the TRS drivers championship in one the most enthralling series in the 13-year history at the time. 
Soon after the dust had settled on their 2017 success, Orton and partner Teena Larsen were hungry for more and like the "Beatles" and "Stones" before them they decided to take on and make it America trying their hand at the rough and tumble of FIA F3 and F4 US championships.

After a brilliant first year on their own as "Kiwi Motorsport" in the F4 US Championship, they finished a brilliant third overall in the teams' championship. 
Last season they teamed up with a successful karting team from Dallas, Crosslink Motorsport, and joined forces as Crosslink/Kiwi Motorsport. 
Having learned the circuits coupled with the strength and depth of four up and coming drivers from Australia, Brazil, Puerto Rico and the USA, their drivers finished 4th, 6th, 8th and 9th.  Between them they won the 2018 team championship by over 40-points over the Jay Howards Development and Cape Motorsport teams'. 
The little team from Nelson they still may be, but in the capable hands of Larsen and Orton they entered last weekend's F3 Americas second round and the opening round of F4 US
as defending American Champions.
While the likes of Bamber, Dixon, and Cassidy are often stealing the headlines for New Zealand motorsport overseas, spare a thought for another Kiwi motorsport team reaching excellence on a week in week out basis for the last two years, far from home in Nelson. 
I joined the team at Michelin Road Atlanta last weekend to observe them at close quarters and the spirit that they have built since 2004 in TRS back in New Zealand, which has been brilliantly transferred to the USA.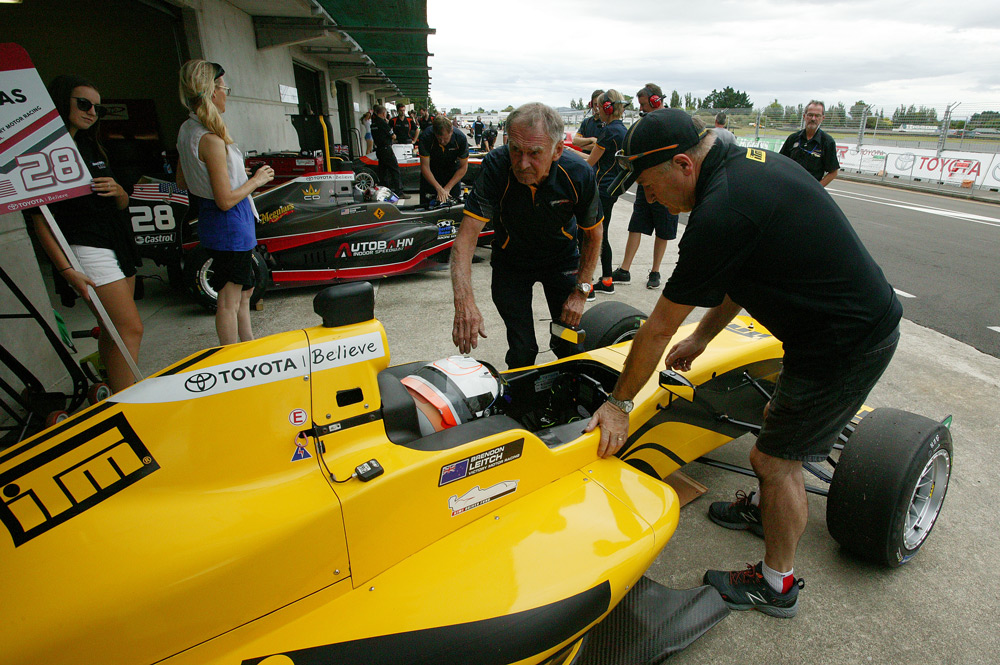 They are still a small close-knit unit with Teena's dad, now in his eighties, as the senior rudder and chief mechanic. Alongside him are up and coming apprentices from New Zealand, some aged just 17, as well as race engineers like former TRS and TR86 driver Michael Scott.  He's on hand to help the five-team drivers as they all go in pursuit of back to back titles in F4, and for the first time a stab at the new F3 Americas title with their former F4 driver Austin Kaszuba from Texas.
It's early days in the 2019 series in the States.  Crosslink/Kiwi Motorsport set out their stall at Michelin Road Atlanta in atrocious weather conditions and look like one of the favourites again for 2019. 
In F4 they finished with a win for Australian Joshua Car, a second with Arthur Leist of Brazil and a fourth place for Puerto Rican driver Jose Blanco.
In F3 Americas, their lone entry Austin Kasuba picked up a fourth and three top-ten finishes. 
The next round of the series is in Pittsburgh in mid-June with both F3 and F4. Again the season will conclude with another trip to the USA Formula One Grand Prix in November, when F4 will be on the under-card of F1. 
Kiwi Motorsport will be back to being "Victory Motor Racing" when they return to New Zealand next summer for the 2020 Toyota Racing Series and with any luck, by then they could well enter the series back home as two-time American Champions.