Last year when I wrote a Talk Motorsport column about 'Bathurst' I tried to make the point that – at least for as long as Kiwis have been exposed to a 'live TV feed' of 'Australia's Greatest Race' – it has been our 'Greatest Race' as was as well (see 'Bathurst – because your Great Race is also our Great Race!').
Not since the late and much-lamented Tasman Series ran out of puff – way – back in 1975, for instance have Kiwi drivers had the opportunity to regularly compete in an international event so close to home.
So, it was with a mix of surprise and delight that I read last week that bona fide Bathurst legend Greg Murphy and former Supercars series young gun Richie Stanaway have been enticed back to Bathurst later this year to drive a Boost Mobile-backed wildcard Holden Commodore for Erebus Racing.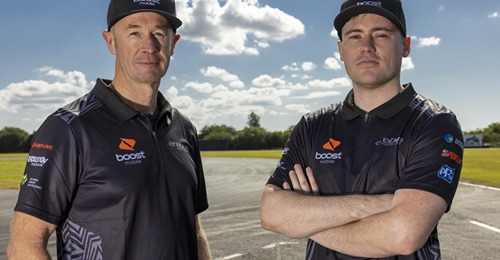 The 'deal' is the brainchild of Boost Mobile founder Peter Adderton and is the second wildcard deal to be announced in the past fortnight, the first one pairing 57-year-old former series champion Russell Ingall with teenaged Super 2 class sensation Broc Feeny in a Supercheap Auto-backed Holden Commodore.
For four-time Bathurst winner Murphy it will be his first Great Race start since 2014, and Stanaway's first since 2019.
Murphy's appearance comes seven years after the Hawke's Bay ace officially retired from racing; it will mark his 23rd Bathurst 1000 start, having scored wins in 1996, 1999, 2003 and 2004.
It will be the fifth start, meanwhile, for Stanaway, who last campaigned in the main game for Garry Rogers Motorsport in 2019.
The car the pair will share, will run Murphy's iconic #51, a number he carried full time between 2001 and 2012.
He also carried the number to Bathurst victory in 2003, a day after his famous 'Lap of the Gods' Top 10 Shootout effort
For Adderton, the wildcard has become the reality of months of campaigning for fans, with the telecommunications company's founder teasing the idea on social media.
"Originally the idea was a bit tongue-in-cheek, but the fan reaction has been incredible, so I wanted to make this team happen for [the fans]," Adderton said.
"I got on the phone to Greg and Richie and although they initially weren't interested, it didn't take too long for them to see what we were trying to do and for them to change their minds.
"We have an incredible relationship with the team at Erebus and Barry [Ryan] understands better than most that the entertainment and fans are key to Supercars' success."
Kiwi fans have always enjoyed their 'day-glued-to-the-telly' in early October, adopting nine-time race winner Peter Brock as our own TV road safety guru, and publicly tut-tutting but privately having a good old chuckle when one of our own – expat Kiwi Jim Richards – called the boo-ing race fans 'a pack of arseholes' from the podium at the sodden end of the 1992 race.
Bar early adapters like the late Rod Coppins and Jim Palmer it was Jim Richards in fact who blazed the trail for Kiwis at 'the Mountain,' initially as a co-driver for Holden hero Peter Brock in the late 1970s, then as the lead driver for Fred Gibson's all conquering Nissan BNR32GTR squad in the early 1990s before returning to the role of co-driver through the late 1990s and early 2000s.
Brock and Richard s won their first of three consecutive Bathurst crowns together in 1978 behind the wheel of a Holden A9X Torana. They did it again a year later – again in an A9X – before claiming the hat trick (3 in a row) of race victories in 1980 in the first of Brock's classic 4-door Commodore, the VC.
Having moved to Melbourne permanently way back in 1975 and crated a life for himself and his young family in 'The Lucky Country,' fellow drivers and fans have always considered Richards one of their own, though that state-of-affairs was sorely tested by the 'pack of arseholes' spray in the wake of his and co-driver Mark Skaife's surprise 'on countback' win in the rain-lashed 1992 race.
Initially, of course, racing a 'car-with-a-roof' was the last thing a young Greg Murphy wanted to do.
Like his fellow kart-turned car racers at the time Murphy had his heart set on a career in single-seaters. Winning the inaugural Shell Scholarship (and with it a funded drive in the NZ Formula Ford championship) was a good start and with on-going support from the fuel and oil company he was able to move up to the NZGP category's Class 2 division in a Ralt RT4 a year later and eventually to the 'Main Game' via the short-lived F3000-based Formula Holden category, winning the NZ Grand Prix race at Manfeild and ending up a close second to Tasmanian Paul Stokell in the Australian Drivers' Championship Series in 1994.
As it turned out it was actually a pivotal year in Murphy career because 1994 was the year the then 22-year-old got his big 'Touring Car' break – driving an Orix-backed Toyota Carina E (Corona) in the Australian Class II championship.
Though he would continue to pursue opportunities in single seaters at home and – in particular – in the United Staes; the writing really was on the wall; there was a career to be forged a lot closer to home……
For a start, the drive in the Carina in the 1994 Aussie Class 11 championship series got him his first start at Bathurst, and impressed Audi 80 Quattro team boss/lead driver Brad Jones enough to sign the obviously, talented young Kiwi up to drive one of his new (ahhemm) Orix-backed AWD Audi 80 Quattro's in the Aussie Super Tourer series for the next two years, 1995 and 1996.
Murphy was also signed in 1995 by works Holden squad the Holden Racing Team to join their other recruit ', Craig Lowndes, at the annual endurance rounds at Sandown and Bathurst.
While their first attempt to tame 'the Great Race' stated with pole position but ended just 10-laps later thanks to an initial first lap clash between Lowndes and eventual race winner Larry Perkins.
The next year – 1996 – however, 22-year-old Lowndes and 24-year-old Murphy did win – with the pair being credited with spearheading a new youth wave, washing over the sport.
Which is all very well but after finding that there was no full-time place for him on the HRT Squad when Craig Lowndes returned from an abortive attempt to contest the European F3000 series Murphy was forced to find another team to do his bidding.
Of which, more in next weeks' column.