I am, I certainly hope those of you reading this realise, taking the mickey with that headline.
Where once, when I looked after the press and publicity for the D1NZ National Drifting Championship, I might well have had a genuine 'insider's perspective' on or of the country's (indeed probably the world's) most exciting motorsport category.
These days, however, I'm back to being a bloke with a car who likes heading off to a circuit now and again to scare himself silly doing a skid!
Like the vast majority , I'd imagine, of my fellow keen amateurs originally attracted to the activity by the sheer, anarchic freedom it promised, I like to dream……in particular of having a go/giving it a crack etc etc at a proper, organised meeting.
But…the closest I got to that was several years ago now when D1NZ was running its first ever 'carpark round' at Mt Smart Stadium; oh and in December last year when the Japan-based MSC Drifting Championship put on a round of its club-level Formula D Japan 'feeder' series at Sky Zhou's purpose-built track at Meremere.
The first time I don't mind admitting that I had the money (just) to do the round but bottled out after waking up in a cold sweat the night before I was due to put in my entry.
In all the years I raced motorbikes through school varsity and my 20s, then through the subsequent decades racing karts, Formula Vees and Mazda RX7s I'd never had THAT happen before. So – rightly or wrongly, whose to know now – I quietly binned the entry form the next day and no-one – until now that I am telling the tale that is, including my wife Delia, was any the wiser.
The second time, meanwhile, just last year, I had the opposite problem. While I was raring to go, and sleeping like a lamb at the time, I got caught short financially with Christmas coming and simply didn't have the $250 entry fee on the day it was due!
Which I'm sure sounds pathetic coming from someone my age, background, and work/bank history…. but there you go.
Anyway, this col was not supposed to be about me, let alone my abilities or otherwise to sort my sh.t out.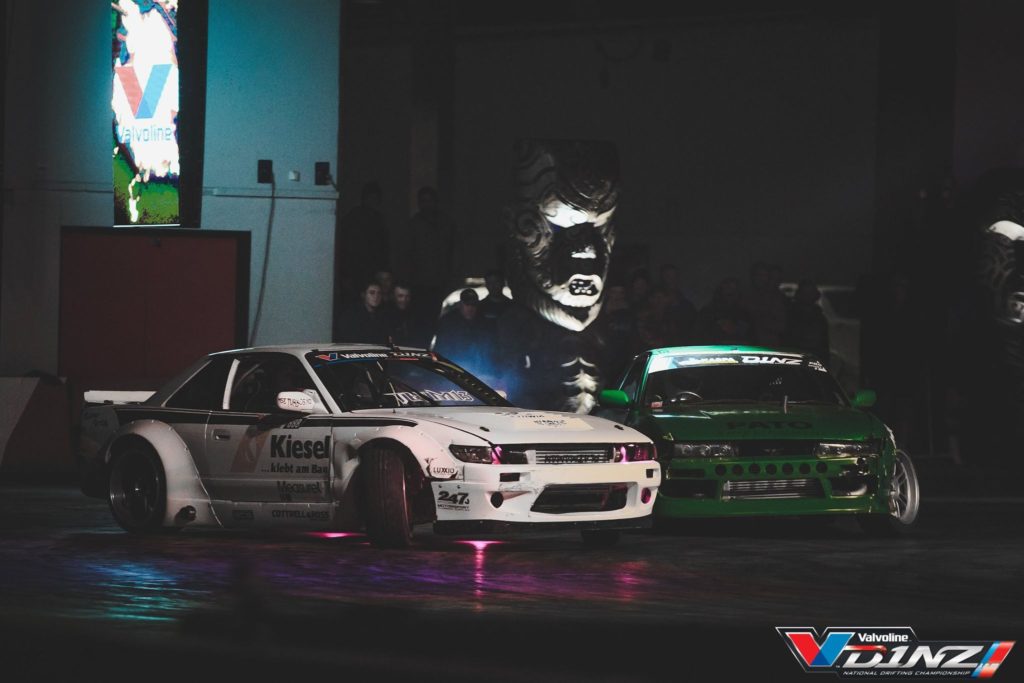 No, the reference to being 'inside' and by definition being able to look back out, refers to the high old time I had this last Friday and Saturday at the re-scheduled round of the Valvoline D1NZ National Drifting Championship inside (yep, you read that right, INSIDE) Auckland's ASB Showground's cavernous exhibition halls (of which you can catch a cool little preview here.
Now, before I go any further, the bloke whose wild and crazy idea just to ask the question, let alone go on to run a successful meeting inside New Zealand's self-styled 'world class show and exhibition centre,' and therefore, who was responsible for the magic that happened over the two nights (Friday for the Pro-Am series, Saturday the 'main game,' is Brendon White.
Now I seem to remember writing about Brendon in one of my earlier columns. Suffice to say he is an otherwise mild-mannered but altogether multi-talented P.T. Barnum-type (look it up if you don't immediately get and understand the reference) who, somehow – and I'm not sure even he knows himself – has not only kept the D1NZ drift show 'on the road' for the past 12-or-so years, but has also – again somehow – managed to keep it fresh.
To the point where I think it would be fair to say that the NZ drift scene would be a very different place had Brendon decided to put his talent for promotion and desire to put on events to use in some other – arguably less stressful and better-remunerated – medium Like boxing!
You see, like the immortal P.T. Barnum, (and if you are interested take the time to check out this little doco on the guy here below) Brendon White is all about the 'show.' Like Barnum he's also fond of both thinking BIG and thinking outside the square – all and always in the interest of 'the show.'
Of which his daring move to hire Auckland's ASB Showgrounds, and put on the 4th (and penultimate) round of the Valvoline-backed, Sky TV-broadcast but COVID-19 Lockdown-interrupted 2020 series, on the bare concrete floor of the largest Arena is just the latest in a long line of similarly ballsy Brendon White moves.
Who can forget (not me definitely, for reasons I've already mentioned) for instance, White's first foray into Japanese-short-course drift events at Auckland's Mt Smart stadium aka 'The Concrete Jungle' as you can see, feel and here on this official D1nZ video
The course was set up in the far-western reaches of the facility's car park, literally within spitting distance of a main thoroughfare (Maurice Rd), and was lined with concrete barriers.
To say it was brutal was an understatement yet it proved that – done right – you could run a round of a national drift championship series on a converted car park course – in much the same way Japan's D1GP professional drift championship series has been doing on a similar course on the man-made Odaiba island in Tokyo Bay since 'way' back in 2004 and which I think this 2010 video gives a better idea than the later ones.
The same sort of 'yeah, why not?' spirit saw White run a one -off round of the 2010/11 D1NZ series on a recently finished section of road in a hitherto unused industrial estate at Ruakaka near the Marsden Point oil refinery (which didn't really draw a crowd) then two more car park events (which did) in front of transport operator Toll's large logistics building on Rewa Rewa Rd…..if not in the heart of Whangarei, as close as he could feasibly get.
Taking an event like a D1NZ championship round 'on the road' (aka outside Auckland) is an expensive proposition, even with the trusted group of volunteers who have been with White for as long as he has been the circus-master at D1NZ events.
Ever the optimist, however, he appears happiest when he is taking a risk, or at the very least a major gamble.
History tells us, for instance that the investment he made for the first – and second – 'car-park' events (see below) at what at the time was called (or at least I think it was) ASB Baypark Stadium paid off; because now there is a special (drift) course of concrete laid under the speedway clay around part of the perimeter, and under the carefully manicured grass of the 'rugby field' inside the renamed Trustpower Baypark Stadium for Brendon to use once year for the Bay of Plenty's own round of the annual D1NZ series.
Since the series' first venture to the greater Tauranga/Mt Maunganui area the annual high-summer 'Bay round has become a fixture on the summer entertainment calendar with thousands of fans either already living in the bay, on holiday there, descending on the venue to cheer their favourite driver/s on.
No discussion of Brendon White's obvious absolute belief in the economic truism of risk & reward (In theory according to the concept, he greater the risk, the larger the reward) would not be complete without talking about the time – in 2016 – he convinced the management of Dunedin's Forsyth-Barr stadium to let him install a temporary concrete course (on top of a plywood base) on top of the hallowed turf usually reserved for Super Rugby games.
With its high roof and ultra-sophisticated air-conditioning systems, the Dunedin stadium was probably a better initial bet for running a drift event indoors than Auckland's ASB Showgrounds.
But, think for a minute what it must have been like standing in Brendon White's shoes as he waited for his first face-to-face site meeting at the stadium with the bloke who was running it at the time – and who was ultimately responsible for the condition of the grounds, the health and welfare of his staff and 'customers….'and the reputation of the place in the minds of the good citizens of Dunedin.
It would have been so easy, for instance, for him to simply say no. Yet he didn't. He said yes, further proof if any indeed was ever needed of Brendon White's skills as a salesman.
Which, I'd imagine Brendon will need to call on next year if he wants to return to the ASB Showgrounds for a 'return bout.'
As a venue for a short-ish stadium or car park-style drift event the ASB Showgrounds do have a lot going for them. For a start, though It might sound really silly saying it, they are in Auckland, where Brendon and most of his volunteers are based.
This time, too, he didn't have to spend a cent (that I'm aware of anyway) on building then breaking up a temporary drift 'track,' the cost that spelt the death knell of a regular D1NZ round at the Forsyth-Barr stadium, for instance.
Being immersed in such a visceral environment if not for everyone, obviously. But with broadcast partner Sky throwing its weight behind the series in general and the final two rounds (at the SB Showgrounds last weekend and at Pukekohe Park Raceway for the season finale at the end of the month) in particular you really have the best of both worlds.
What next season holds is anyone's guess. To which all I can say is P.T. Barnum would – I'm sure – approve.