Journalism, by and large, is a thankless task (or 'calling' as I prefer to think of it.)
I would have ended up – at this point of my life – much better off, financially anyway, had I followed the path my fellow graduates from the University of Otago's 'Class of '81' did into – let's see – Town Planning, the Law or, the ultimate job for someone with my degree mix at the time, the Department of Foreign Affairs, in Wellington.
Instead, I 'chose' journalism. Or again, as I prefer to think about it, journalism 'chose' me. As well as being a kid who eat, slept and breathed motor racing from the earliest of ages (I well remember going to watch the movie Grand Prix, from which you can check out one of the highlight scenes below by myself as a 7-year-old for instance), I was also an avid reader (rare, apparently for a boy) and writer, producing my first 'car racing magazine' using a borrowed type writer when I was 12.
So when a bloke who was competing at a motorcycle race meeting I was covering for New Zealand Motorcycle News back in the early 1980s actually took the time to pen then post a Letter to the Editor congratulating 'your correspondent MacCrash' (That would be me!) on a job well done…..well, it was worth way more than the fee I got (which at the time would have been $25 max) from the publisher 3 or 4 months down the track.
Journalism is like that!
In fact, most people, from my experience anyway, go through life without ever 'knowing a journalist.'
Sure, they might watch the 'TV News' every night, and up until recently, anyway, most would at least see and flick through a newspaper if not every day, at least two or three times a week.
But few – again in my direct experience – would 'know' someone who worked as a 'Journalist,' let alone an 'Editor,' a 'Sub (Editor)' or even an Ad Manager.
As such, those who make a living from writing are a bit like cops……understood and accepted by their fellows but regarded with a kind of arm's length suspicion by everyone else.
For good reason, too, as any number of 'horror stories' various people have regaled me with over the years about their own 'interactions' with 'journalists' are wont to prove.
Sadly, there's a common kind of thread; most based on one or more of my 'colleagues' rudely barging in on someone's private affairs (more often than not at a time of vulnerability), lying through their teeth in the Holy Grail-like search for facts to fit into a pre-planned 'story,' then (as if to add insult to injury) getting some basic detail wrong and flatly refusing to correct it….
So I shouldn't have been surprised, I suppose, when I Googled 'NZ's most & least-trusted professions,' and came up with the results of a poll done by Readers' Digest magazine, in which Journalists came in near the bottom of the list – at P35 out of 40 – one place ABOVE real estate agents (which, I suppose, is a good thing), yet one place BELOW Tow Truck Drivers.
To which all I can say is 'oh dear!' Because believe me, for those who 'carry the gene' from birth, or who are 'infected with the journo virus' from an early age, the last thing you ever want to do is get something (particularly a fact, like a day, or date, or spelling of a name) wrong.
Yet every time I set down in front of a computer screen and start writing a race or event report, car, place or personality feature I run the same very real risk as every other time and/or asset-poor journo out there trying to earn a living by writing something, does.
The risk of getting something wrong.
"But it's not as if you're a pilot," a friend said when I was unloading about a particularly silly situation (a quite recent one too!) in which I 'assumed' something and left it in an event report when what I should have done is left it out until I could verify it.
What my friend meant was the fact that 'no-one died' because of the mistake I made.
Which of course was true.
And if I were someone else, someone with a bigger ego or thicker skin, I probably would have been able to shrug it off. As most of the highly-paid, 'hard-arse news presenters' both TV1 and TV3 seem to think it is necessary employing seem to be able to do as they harangue then skewer some poor schmuck in the name of entertainment each and every night of the week.
When something – as journalism is to me – is your calling, however, and you care so passionately about it, getting bawled out over the phone, as well as 'called out' on social media by a person you have wronged……………….. hell, all I want to do when that happens is crawl under a rock and never come out!
Instead – as I did in one recent case – I took it squarely on the chin and – once I realised what I had done, and worked out why I had done it -I immediately went into what I call my 3F's mode….. in other words, if I find that I have indeed 'F…ked up,' I'll immediately 'Fess up,' (i.e. take responsibility) then try my darndest to 'Fix Up' (be that write up and immediately upload a retraction, or leave well alone and trust the issue will 'blow over' as most, in my direct experience, do!)
To be fair on me, I haven't had to exercise my 3F option that often in a (professional) career which (gulp) now spans 37 years. Three, maybe four times!
Ironically, however, as social media demystifies and opens up the communications game to those with an interest (and, unfortunately usually an agenda to go with it) I have been 'called out' more in the past five to so years for mistakes I have either made or (supposedly) made than in any of the preceding 32 (years).
"At least the buggers are reading what you're writing,' was my good (and I must say, very understanding) friend's take on that one.
I say 'supposedly' too, because in this particular case it was my failure, apparently to include the name of one of the class winners at a meeting in my 'write-up' which got this particular Dad's gander up.
Had he checked some of the literally hundreds of thousands of other words I have written in my now 20+ years looking after media matters for KartSport New Zealand about how other people's kids have done (whether here in NZ or when they have been competing in (let's see, now), Australia, Austria, Bahrain, Brazil, France, Germany, Japan, Malaysia, Macau, Puerto Rico, the United States, Italy etc, I'm sure he could have found much better examples.
But no, like a dog with a bone he kept on and on (ad nauseum) about my failure to recognise his own boy's obvious brilliance and therefore my own pathetic failings as a journalist and- in his eyes anyway – human being.
So much so, in fact that, in the end I had to ask Vodafone to start my very own 'calls from unwanted numbers' list with 'old mates' number at the top!
When it's your calling, of course, it's going to take more than one disgruntled Dad to put me off writing about karts and karting. Just as it is one pissed off competitor (out of the literally thousands I must have name-checked at car, motorcycle, kart race meetings and yes even the triathlons I did and covered for NZ Triathlete magazine in the late 1980s and early 1990s) is not going to stop me covering car, motorcycle, MTB and any other race meeting I either have a direct interest in, or am commissioned by someone to write-up.
Case in point KartSport New Zealand's Liquidaction-backed SIM-SpeedTV-hosted Virtual Club Day series.
What started as simply a way to give current karters (young and old) something to keep their reflexes tuned up through the early days of COVID-1 Lockdown quickly morphed into a 'must-do' opportunity for the country's best and brightest karters to strut their stuff on a much bigger – albeit virtual – stage.
Initially I wasn't convinced there would be much to write about. But that all changed when I logged onto the KartSport NZ Facebook page, clicked on the link (that young Dunedin karter and Sim racer Travis Smith had organised) and settled down to see what sort fun/carnage/serious racing was going to result from the unique mix of Stadium Trophy trucks and Northern California's justifiably famous Laguna Seca 'road course' at the opening round.
And do you know what? I 'got it' pretty much straight away. Because a 'race' is a 'race' is a 'race' and if your job is to follow and make sense of it, a virtual race is as good if not better than an actual one to report on.
That said, these days of course, it's actually quite hard to find someone still writing 'race reports.'
Because I grew up devouring what I still consider the 'Gold Standard,' of race reporting. the long-form features on the European Formula 1 Grands Prix, penned by the incomparable Dennis Sargent Jenkinson (aka 'DSJ' or Jenks') for Motorsport magazine, I have absolutely no problem taking even the most basic 'race' seriously.
In fact, one of the things I miss about the races I follow (as a fan, rather than 'for work') these days, like the televised Virgin Australia Supercars Championship ones, is the detail.
TV coverage, particularly live TV coverage, certainly gives you a great shorthand-style 'overview' of 'who won.' What I would still pay good money (though obviously I'm in a minority here, otherwise someone would already be providing the service) to read, however, is  a sort of edited highlights package produced a week to 10 days afterwards  by someone who was there prowling the pits each and every morning BEFORE everyone else and was also there long AFTER all the race-day fans had gone home.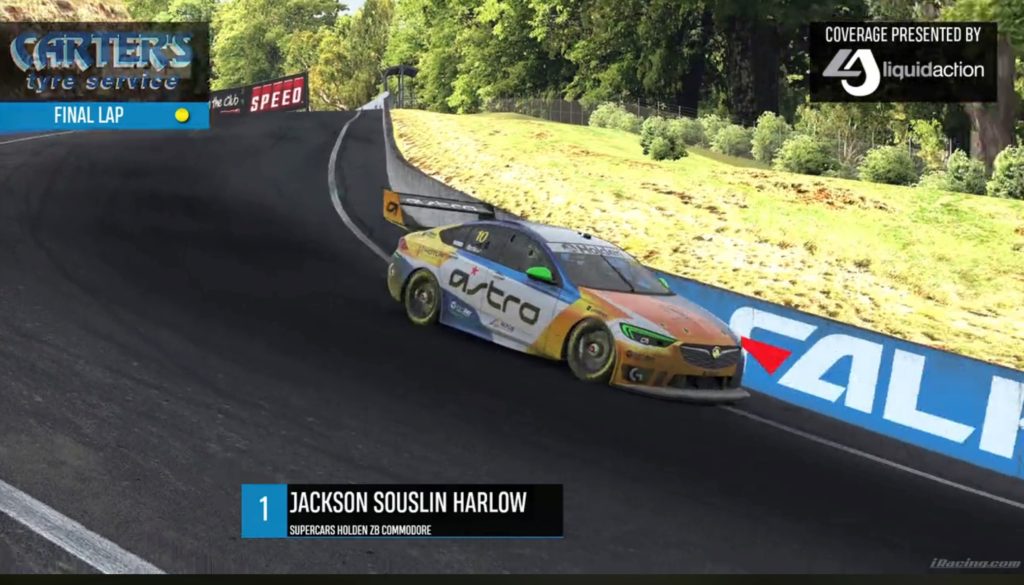 The nature of the reports I have been writing about rounds of KartSport NZ's Virtual series, have, by their very nature been as brief as possible while still trying to cover more than just who won……
What I have found particularly fascinating has been how well some of the younger drivers – the likes of schoolboys Ben Stewart form Wellington, Blake Dowdall from Palmerston North, Ashton Phipps from Auckland, and Izaak Fletcher from Christchurch – have gone up against older rivals.
It has also been a pleasure to watch drivers like Jaden Ransley mature – literally in front on my eyes – from quick-but-loose 'gamer' to smooth, calculated Sim specialist and with it, become an almost serial race, and series winner.
Like kart racing, where a strict set of age group-based chassis, engine and tyre rules are in place specifically to ensure a level playing field so that talent and skill of the driver can shine through, Sim racing is all about the drivers.
Conversely, feedback from competitors and fans alike, means when I am writing up an SAS Autoparts MSC NZ F5000 Tasman Cup Revival Series race (something I have now been doing on behalf of the NZ F5000 Association for the past 17 years) the basic 'who won, where, and how?' formula is not enough because the category is more about the cars than the drivers.
So, when I am covering rounds of that particular series, I make sure I include as much detail about the Lolas, Ledas, McRaes and McLarens etc etc – in terms of their history and provenance – as I can dig up, and fit in.
Of course, the cause of the world-rated local series has been helped immensely by the presence – up until the season just past – of category original Ken Smith.
In fact, it was Ken's presence at the Philip Island Classic meeting four years ago now which prompted me to re-think the way I was covering the series.
Had I relied on my usual 'who won and how' formula I would have indeed told one story. But the one which really resonated with the fans, was the one about Ken and his ultimately unsuccessful attempt to take the battle to the top two Aussies, blokes both decades younger and with cars at least the equal of Smith's ex Danny Ongais Lola T332.
Ultimately it was 'the one that got away' for Ken, and I wrote it up along the lines that he was beaten but unbowed.
Out the story went, to be picked up around the world with – in most cases – absolutely zero, trimming, re-heading or otherwise buggering around by sub editors eager to put their own spin on things.
I got my usual fee for covering the meeting and must admit I didn't give it another thought until something made me scroll down the many comments on the NZ F5000 Facebook page.
'Quite possibly the best write-up of a meeting I have ever attended,' (or words to that effect) was the one I liked best!
For an hour, a day, a week (or two) I floated around with my feet hardly touching the ground. Sure, it sounds silly. But at that point in my life a simple' 'on ya mate' meant more to me (and my obviously fragile ego) than any number of $ signs in front of a single figure, or 0s behind it.