Hyundai team boss, Andrea Adamo, has upped the ante on his drivers ahead of the debut of the Arctic Rally Finland this weekend.
As the World Rally Championship heads to the Arctic wonderland for the first time, Adamo has admitted that his team's performance in Monte Carlo was less than satisfactory.
"Nothing less than victory will be a good result," Adamo said.
That puts the pressure squarely on the shoulders of lead drivers Ott Tanak and Thierry Neuville, while part-timer Craig Breen rejoins the team with an angry boss to please.
"It's no secret that our season didn't begin in the way we had planned in Monte-Carlo. Arctic Rally Finland gives us the opportunity to rectify this.
"All three drivers have finished on the podium in previous full-snow events, so we know they are capable of great speed in tricky conditions. A brand-new event is an exciting challenge, but there is no room for resting on laurels," Adamo added.
It won't be an easy task for the German-based team however, with the dominant Toyota squad eager to continue their run of good form that saw them finish first and second in Monte Carlo.
Sebastien Ogier and Elfyn Evans are proven performers, while young gun Kalle Rovanpera has even been tipped as a possible Arctic Rally winner.
"For us, there will probably be a bit more pressure than usual because it's a home event and our car has been developed on Finnish roads with these kind of conditions," team principal Jari-Matti Latvala said.
For Rovanpera, this may well be his biggest opportunity yet to take his debut WRC win.
"For me there is a bit more pressure than normally, but I would say it's more excitement than pressure – especially from the Finnish people, as everybody is following me more than on other rallies."
That being said, the conditions won't be easy for anyone, as the Arctic Rally provides the season's only full winter experience.
Temperatures in the rally region have been down as low as -20 in recent days, and while it is expected to be more mild come this weekend, this will be a traditional full snow rally.
The Arctic Rally has a history of providing competitors with frigid weather. On the first running of the rally, in 1966, temperatures plummeted to a bone-chilling -54 degrees Celsius!
Crews won't be submitted to anything quite as severe, but as the attached photos from M-Sport / Ford show, team mechanics are going to have their work cut out staying warm.
Ambient temperatures are expected to be between minus 6 and minus 14 degrees centigrade during the week of the rally, although they could dip as low as minus 20.
"We're currently in the midst of a pre-event test in the north of Finland – with each driver getting a full day behind the wheel," M-Sport's Rich Millener said.
"Snow rallies are all about confidence, and at these speeds you can lose a lot of time if you're not feeling comfortable behind the wheel. That's why it's so important for the drivers to have a good test – to get the experience, but also to build confidence with the new tyres and the new conditions, and find a set-up that will enhance that confidence throughout the rally."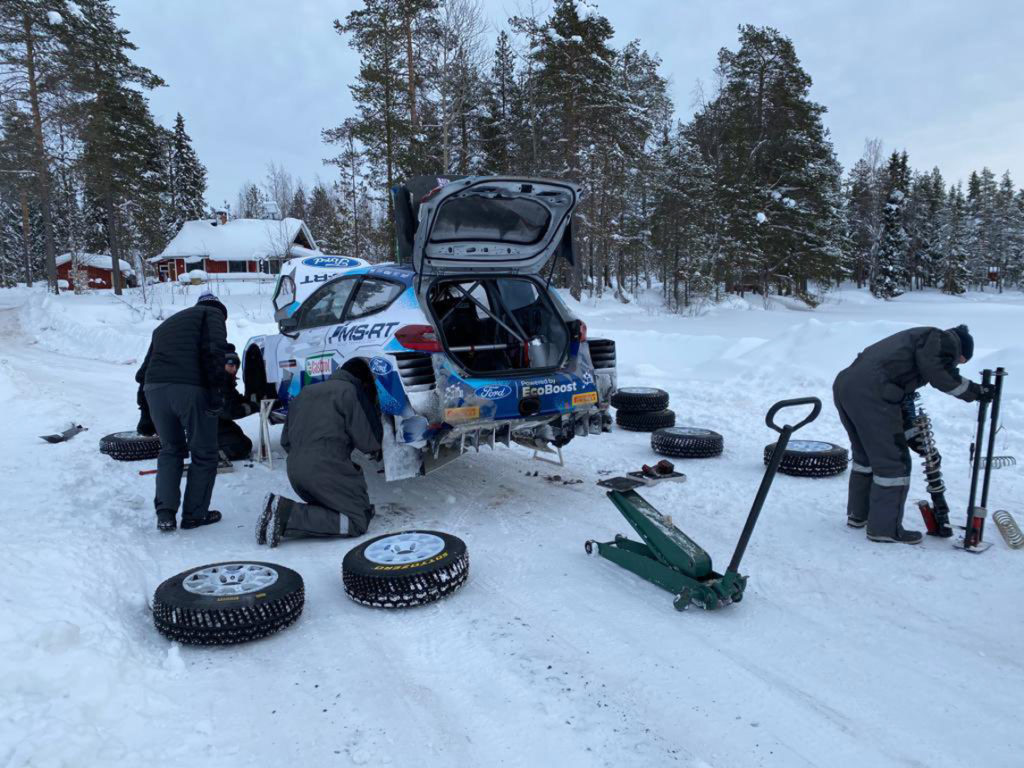 M-Sport drivers Teemu Suninen and Gus Greensmith may be seen as rank outsiders for a podium finish on the Finnish snow, but Suninen in particular has shown in the past he has what it takes if all goes to plan
Based in Rovaniemi just outside the Arctic Circle, the event is characterised by its high-speed ice and snow coated roads, a compact route, plus some stages run at night to further increase the challenge for drivers and co-drivers.
Cars will use Pirelli Sottozero Ice tyres as standard. Each tyre is 205mm in width and fitted with 384 tungsten-tipped studs, 7mm long, that bite into the thick ice layer that coats the stages and provide optimal grip.
There are 10 special stages over the four days of competition (Thursday to Sunday), covering 251km of competitive stage distance.