If it all goes according to plan, we should see the Lady Wigram Trophy come out of its cabinet to receive a dusting and a lick of polish before being presented to the latest winner in January 2022. Now I have no inside knowledge, but I'd lay money on Christchurch getting a round of the 2022 Castrol Toyota Racing Series and if this happens then the Lady Wigram Trophy will be contested for the eighth time by TRS drivers.
Why? Well TOYOTA GAZOO Racing New Zealand had a very successful one-day test in Christchurch at the Mike Pero Motorsport Park on Tuesday which saw four rookie drivers testing the FT60 and 12 young drivers in a TR86.
That is a good enough signal of intent, along with the post-TR86 test wrap-up which stated…… 'The day was also part of a big push by TOYOTA GAZOO Racing New Zealand to build the profile of the championship ahead of its return to South Island circuits as part of the 2021-2022 championship'.
We are also likely to see a round of the TR86 championship as well.
Its actually a sad fact that in the 17-year history of the Toyota Racing Series, this historic trophy has only been competed for seven times. The first winner was local Matthew Hamilton in 2006 followed by Daniel Gaunt and Ealr Bamber the following two seasons. We then had a gap of seven years before current Aston Martin Cognizant Formula One Team driver, Canadian Lance Stroll won the trophy in 2015. Jehan Daruvala took consecutive wins in 2016 and 2017 before another Cantabrian, Marcus Armstrong won in 2018. Since then, there has not been a round of the Castrol Toyota Racing Series in Christchurch for various reasons.
There has been much debate within those that administer the awarding of the trophy, with the topic on whether the it should be competed for only at Ruapuna, or when TRS doesn't come to town (Christchurch), it be allowed to be competed for at other South Island circuits, such as Highlands.
It is an interesting discussion as its history has only ever been in Canterbury, yet it is a trophy for young drivers who may well go on to higher things.
To have it locked away in a cupboard denies those drivers the opportunity to have their name etched alongside Jim Clark, Bruce McLaren, Jack Brabham, Stirling Moss, Jackie Stewart, Ken Smith, Roberto Moreno and Lance Stroll. Liam Lawson is unlikely to have this opportunity. There are good arguments on both sides, but it appears that the majority continue to favour it being awarded only at Ruapuna. And they have good reason if you look at its history.
It started with Sir Henry Wigram, back in 1916, and his concerns for the future security and defence needs of New Zealand and proposing that a 'school of aviation' be established close to Christchurch. 106 acres was eventually purchased at Sockburn on the western edge of the city.
Following the conclusion of World War II there was a renewed interest in motor racing in Canterbury, but no suitable circuit could be found.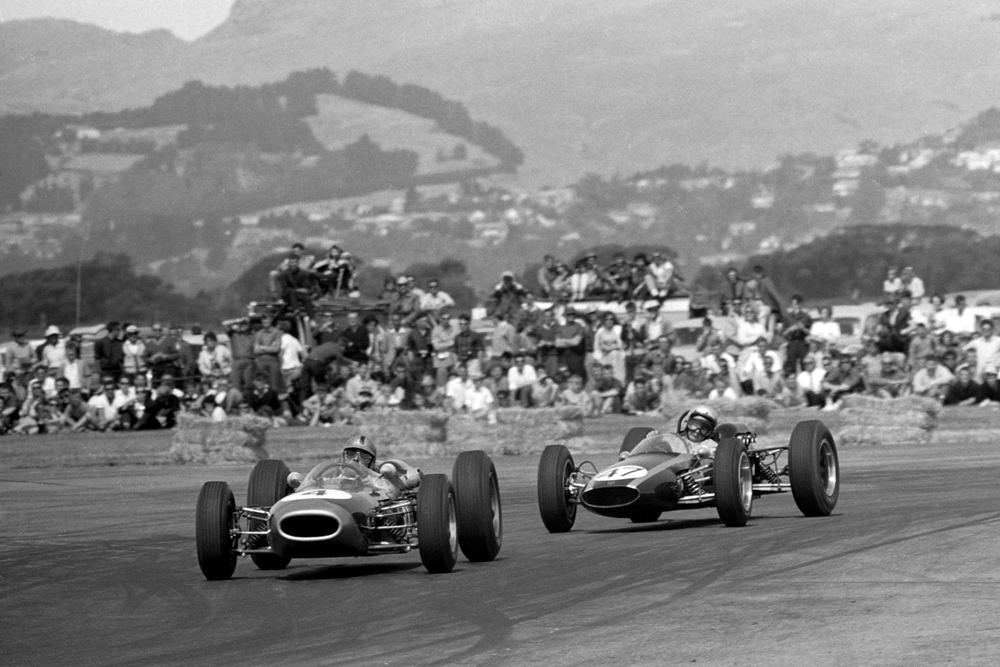 Pressure was on to find a solution that would enable a major meet to be held in 1949 as a dress rehearsal for an even bigger event planned for the following year, the 1950 Canterbury Centenary. An international motor race was envisaged as providing one of the major Provincial celebrations marking this significant anniversary. What was proposed was a Canterbury Centenary Road Race, run on Grand Prix lines.
The organisers of the proposed 1949 event had close personal contacts with the Papanui RSA which in turn provided a channel to the national President of the RSA, Major General Howard Kippenberger.
Kippenberger was a Canterbury man (born at Ladbrooks) and had the ear of the Prime Minister, the Rt Hon. Peter Fraser. Through their good offices, and with the support of the Wigram Air Force base staff, the Ministry of Defence gave its consent for the perimeter tracks at Wigram to be made available for this purpose.
Both the 1949 and the 1950 Wigram racing events were managed by the Canterbury Car Club, but from 1951 the running of what now became an annual meet was taken over by the newly formed Motor Racing Club.
The Lady Wigram Trophy was first awarded in 1951 when nineteen starters lined up on a sodden track at the end of March. Unfortunately, wet and showery conditions reduced attendance numbers on this occasion to around 10,000. It was resolved that in future meeting dates would be brought forward to February at the latest in an endeavour to avoid autumn rains.
This association with Wigram would last for 45 years, from 1949 until 1994 when the move to Ruapuna, (now the Mike Pero Motorsport Park) was made in light of the pending closure of the air base and negotiations for the sale of its land.
Initially the move to Ruapuna saw the trophy put away in a cabinet until 2003 and 2004 when Formula Holden came to town. Then in 2006, a year after the Toyota Racing Series got underway.
Now we look to 2022 and on Tuesday, 4 May 2021, we had three Kiwi rookie drivers (plus Ben Taylor from Australia) piloting a FT60 around Ruapuna for the day.
Look out for Jacob Douglas, James Penrose and Matthew McCutcheon who are all likely to line up on the grid for the 2022 Lady Wigram Trophy race. Bring it on I say!
Main picture: Current Aston Martin Racing F1 driver Lance Stroll won the Lady Wigram Trophy back in 2015