History repeated itself after this year's Castrol Toyota Series crowned its champion in February. No sooner had Brazil's Igor Fraga won the title and the New Zealand Grand Prix,  Red Bull offered him a chance to be part of their Red Bull Junior programme.
Just as it vaulted 2019 TRS champion Liam Lawson into the limelight last year, it has done the same for Igor Fraga who was about to embark on a full season of FIA F3 with Charouz Racing System backed by Gran Turismo, before motor racing and the world came to an abrupt stop.
So, with no real-life racing, who better to talk than one of the world's best gamers, who finds himself very much at the forefront of both real racing and esports.
Twenty-one-year-old Fraga has proved himself in the virtual world having made it both to the 2017 Formula One eSports Series and the inaugural F1 Esports Series in 2017. He went on the win the inaugural FIA Gran Turismo Nations Cup in 2018 and the McLaren Shadow Racing Project in 2019, and also competed in the 2017 Formula One eSports Series.
So I called him after he had just arrived home to Brazil after his whirlwind tour from winning the Castrol Toyota Racing Series in New Zealand, to testing FIA F3 in Bahrain, fresh from the news of his Red Bull Junior announcement.
IGOR FRAGA :
"I went the Czech Republic after the three day F3 test in Bahrain as that is where my new team Charouz Racing system are based. I was just picking up my rental car when I get a phone call from Austria – I was like-  "is this serious." Then I pick up the phone and Dr Marko (Red Bull) is there and I just couldn't believe it – I couldn't believe it was happening, that he wanted me on the Red Bull programme and for me, I think this could lead to so much for my career."
The significance of this for motorsport is huge. Fraga did go-karting in Japan and Brazil where he grew up, and then moved into USF2000 in the USA when he and his family could afford it. He continued to hone his skills with Esports through Gran Turismo and at the same time his Esports career took off and he became one of the world's top gamers.
Then it got interesting. In a  seminal moment in this growing crossover between real and virtual racing, Gran Turismo stepped up.
Sony's Gran Turismo pumped money into Igor's REAL racing career as he continued to be the game's top competitor and now a top ambassador for the brand.
While the likes of Jann Mardenbough and many others have launched their real racing careers through gaming, Fraga suddenly found himself on the road to Formula One both in gaming and real racing.
In 2019 he used that Gran Turismo backing to finish third in the Formula Regional European Championship. The real game-changer, if you'll pardon the pun, saw Gran Tourismo pay for Igor to head to New Zealand at the beginning of 2020 with M2 Competition. There he won the TRS title as a rookie, defeating last year's champion Liam Lawson.
Lawson wasn't back to defend his title for fun and have a holiday at home. In fact, Lawson went on to win five races to Fraga's four, but it was Fraga's championship fair and square. He deserved the title like Lawson, Shwartzman ,Stroll, Randle  and Norris before him.
Then the seminal shift was when Red Bull stepped up. He now finds himself a Red Bull Junior in FIA Formula 3 and has just as much chance of becoming an actual Formula One star as Liam Lawson, Yuki Tsunoda, Dennis Hauger and Juri Vips.
Then there is another factor that makes Fraga now one of the hottest properties in motorsport full stop.
Red Bull has a robust and well-tuned Red Bull Racing Esports team and they have been sim racing against the other F1 teams for three years now. Fredrick Rasmussen, Joni Tomala and Nicolas Longuet are their current E-sport drivers. Fraga though, is a completely different prospect as at 21 years-old he is ready to take on the world in both the virtual and real world.
The marketing potential of Fraga's career is enormous. He's already backed by Sony the biggest gamers in the world and Red Bull who own two F1 teams and are one of the sports biggest spenders as well as their extensive Esports set up.
FRAGA :
"Ever since I started karting at 4 years-old, I said I wanted to be a Formula One World Champion. The desire was always there. Both me and my family have put so much effort into motorsport and now it is becoming more concrete.
"Obviously we knew all the difficulties ahead, but always the thinking was there about how to get closer to achieving that dream.
"Esports for me helped a lot in terms of developing my driving skills as I couldn't practise as much as many other drivers in real-world racing.  Plus the visibility I got in Esports also helped me massively.
"I am very honoured and happy that Gran Turismo are with me. They have been such a big part of my life as I have been playing the game since I was three years-old. Having this brand supporting me is crazy and I can't appreciate them enough for what they are doing for me, but also for what they are trying to do for motorsport."
What makes the world of motorsport so unique is the nature of the sport. It's a race against the clock and the competition on the same layout and that can be reproduced digitally in staggering lifelikeness. The game developers have made the simulators so realistic that the skills that it takes to be good on Gran Turismo and many other race game options are the same as are needed in REAL racing.
The proof of this over the last decade is that Formula One and motor racing everywhere are using simulators as much if not more than they use real tracks.
Simulators are now a key part of any racing drivers development. Just look at how much time former TRS champion Lando Norris and Red Bull's Max Verstappen use simulators and games to hone their skills.
Just last weekend another former TRS star China's Guan Yu Zhou, a F2 driver and Renault Sport Academy driver who won the first Formula 1 Esports Virtual Grand Prix. He beat fellow real-world drivers and ex TRS stars Norris, Latifi, and Robert Shwartzman as well as many of the world top E gamers like Jimmy Broadbent.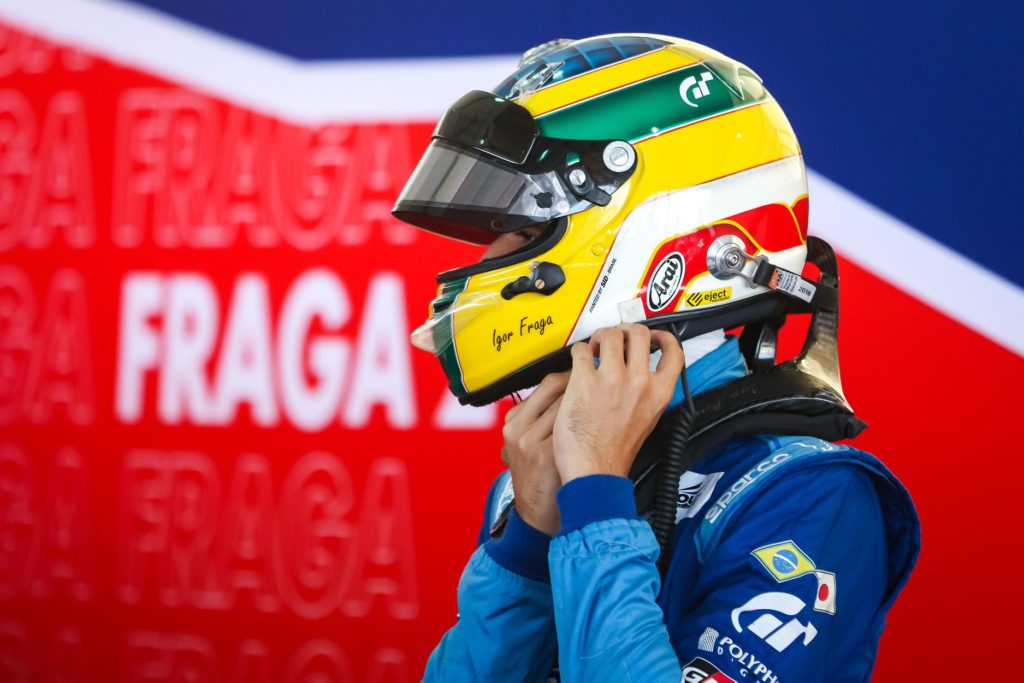 FRAGA :
"The physics of gaming are so realistic.  So you are required to use the same skills you need for real-world racing. Both virtual and real-world racing are very difficult in different ways.  On the virtual, it is all by yourself. No engineer or team, and you have to work out the setup, the strategy and many other variables. You have to work out everything yourself. Then when the action hots up in the game you then have a camera in your face watching you drive and deal with the pressure. So it is very hard to concentrate while gaming at the top level.  
"In real racing, you have all the support from your team. When you are driving, you can concentrate only on the racing.
"At the same time, you have the risk of really hurting yourself and the equipment around you and being out for the weekend if you have contact with another driver or a barrier. There are different factors, but in the end, the competition is the same in both and that is what I have always loved. It is a pleasure to be in both race worlds.
So now with no real-world racing able to go ahead for the foreseeable future, ESports is taking another huge step forward as a popular platform and sport which literally anyone can take part in and learn to be competitive at.
So while we can't go outside, draw on your inner Fraga. Download an E-game and start practicing as there's hope for us all in both the real or virtual world.
Keep calm and race on