Scott McLaughlin has taken a commanding lead in the Virgin Australia Supercars Championship after two wins from three starts at the BP Ultimate Sydney SuperSprint round over the weekend.
"Overall, it was a solid day and the outcome was exactly what we wanted," commented McLaughlin. "Our qualifying pace was right there all weekend, and I felt really comfortable with the car. We just had to make it better across the race run compared to yesterday, which we did.
"I think we did a really good job with the car with regards to tyres. I couldn't really look after them that well yesterday but we put a few thought processes into it and it went well today. The car was an absolute dream to drive in that last race."
McLaughlin has extended his lead in the championship by 49 points to 574 while the Shell V-Power Racing Team is second in the Team's Championship with 828 points behind the Red Bull Holden Racing Team on 878.
Race 8 Recap
Despite sacrificing track position in the opening stint, McLaughlin stormed home to a position on the podium, finishing Race 8 in P3. It was Nick Percat, breaking a four-year drought for himself and Brad Jones Racing, that won the race from second placed Jamie Whincup.
"Overall, it was a great weekend," commented Whincup. "Any weekend when you can get three podiums, you're bound to come away happy. DC (David Cauchi, race engineer) did a great job this weekend constantly chipping away with the setup and making the car faster every time we hit the track.
"Our efforts next week back at the workshop will be to try and find a little bit more pace out of the car so we can take it to the guys next door. While we missed the crowd and supporters this weekend, which we look forward to having back at the track as soon as we can, I really enjoyed the no-messing-around format which took me back to how we used to go racing."
Percat had not won since his triumph with Lucas Dumbrell Motorsport at the 2016 Adelaide 500, while Brad Jones Racing's last victory came with Tim Slade at Winton in the same year.
The Shell V-Power Racing Team Ford Mustang GTs locked out the second row of the grid, having qualified in P3 and P4. McLaughlin started the 32-lap race strongly and fired up the order to P2 by the second corner. While Fabian Coulthard also had an explosive start and tried to grab P3 from van Gisbergen, his lack of tyre quality was immediately evident as he dropped back to P7.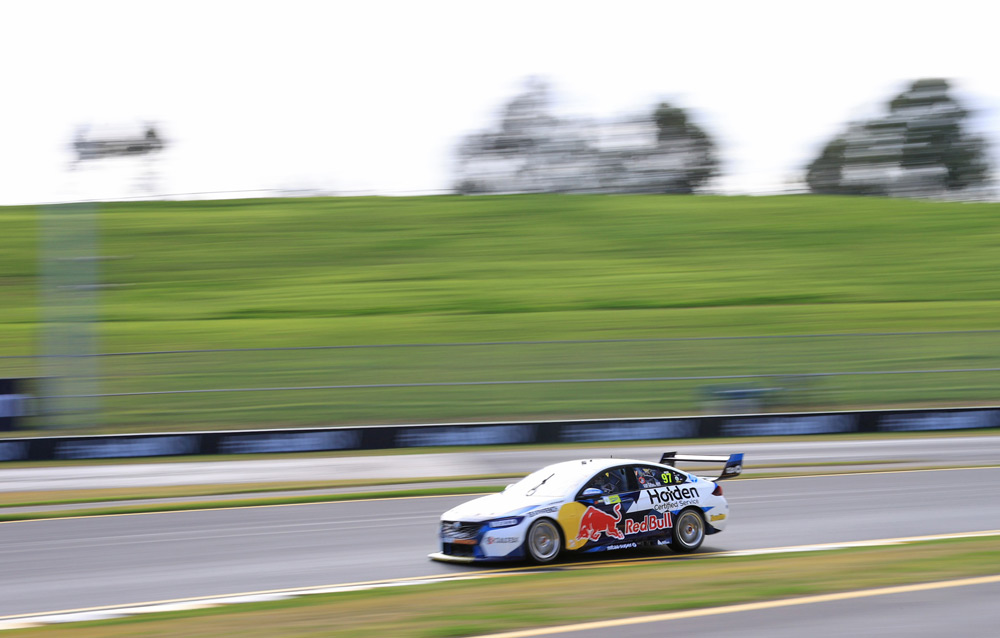 McLaughlin and Coulthard both sacrificed track position in the first stint of the race, saving the better rubber to finish the 130km sprint. Coulthard was first of the Shell V-Power Racing Team drivers to stop on lap 12. Just one lap later, McLaughlin stopped for four new tyres.
With all stops completed and 10 laps to go, McLaughlin was in P6 and Coulthard P15 as they improved on their race pace. On lap 26, McLaughlin was on the charge as he stormed past Reynolds into P5. He continued to hunt down Mostert and Waters in a fight for a podium position.
He had his work cut out for him, but a lap later the job was done despite contact by Waters. McLaughlin crossed the finish in P3, while Coulthard's position remained unchanged. He finished in P15.
RECAP RACE 9:
After starting Race 9 on pole position, McLaughlin was never in doubt to secure the top step of the podium as he led from start to finish, claiming his 46th Championship race win. A horror afternoon saw Coulthard struggle with tyres before a gearbox issue ended his race. He recorded a DNF.
"To finish the weekend the way we did with a mechanical and gearbox issue is frustrating as I know all the guys put in a lot of time and effort to prepare these cars the best they can," commented Coulthard. "Sometimes these things are out of our control."
"We've got to keep our chin up, remain positive and focused, and look forward to Winton."
McLaughlin set a new Qualifying lap record for Sydney Motorsport Park and took his tally of career Championship poles to 63. His teammate Coulthard started in P7.
There was a clean start to the race with McLaughlin fighting hard against Whincup to hold his lead. McLaughlin quickly pulled away to open a gap of 1.3 seconds by lap 3. Coulthard was quick off the line, but had dropped to P9 by the end of lap 1 and found himself battling with the pack.
Ten laps into the race, McLaughlin led the field by almost 3 seconds but was conserving his tyres while slowly widening his gap. When all stops were completed, McLaughlin still led the race by 3.2 seconds.
With four new tyres fitted during his CPS, Holdsworth made a late charge on McLaughlin, but the No.12 pilot's lead was too big, and he comfortably took his second win and third podium of the weekend.
Race 8 Results
Pos
Driver
Race Time
1
Nick Percat
50:14.1247
2
Jamie Whincup
50:17.3059
3
Scott McLaughlin
50:30.5716
4
Chaz Mostert
50:33.8936
5
David Reynolds
50:36.0871
6
Cameron Waters
50:37.1710
7
Shane van Gisbergen
50:37.6272
8
Mark Winterbottom
50:38.4970
9
James Courtney
50:43.1083
10
Andre Heimgartner
50:47.6945
11
Scott Pye
50:51.7203
12
Anton De Pasquale
50:52.6509
13
Lee Holdsworth
50:53.3057
14
Jack Le Brocq
50:53.4865
15
Fabian Coulthard
50:57.1363
16
Macauley Jones
51:03.9822
17
Alex Davison
51:07.4368
18
Todd Hazelwood
51:08.1845
19
Rick Kelly
51:10.9265
20
Bryce Fullwood
51:11.7065
21
Garry Jacobson
51:14.2460
22
Chris Pither
51:19.9617
23
Jack Smith
51:27.9212
24
Jake Kostecki
Race 9 Results
| | | |
| --- | --- | --- |
| Pos | Driver | Race time |
| 1 | Scott McLaughlin | 50:20.2679 |
| 2 | Lee Holdsworth | 50:21.7874 |
| 3 | Jamie Whincup | 50:31.5186 |
| 4 | David Reynolds | 50:44.6962 |
| 5 | Mark Winterbottom | 50:45.9151 |
| 6 | Shane van Gisbergen | 50:46.7851 |
| 7 | Anton De Pasquale | 50:47.2175 |
| 8 | Todd Hazelwood | 50:47.3966 |
| 9 | Nick Percat | 50:48.2649 |
| 10 | Bryce Fullwood | 50:49.0166 |
| 11 | Jack Le Brocq | 50:52.1268 |
| 12 | Scott Pye | 50:55.9153 |
| 13 | Cameron Waters | 50:57.1273 |
| 14 | James Courtney | 50:57.7296 |
| 15 | Andre Heimgartner | 51:00.8905 |
| 16 | Chaz Mostert | 51:04.0223 |
| 17 | Rick Kelly | 51:06.9250 |
| 18 | Jack Smith | 51:07.2832 |
| 19 | Garry Jacobson | 51:08.3304 |
| 20 | Macauley Jones | 51:09.6675 |
| 21 | Alex Davison | 51:10.0970 |
| 22 | Jake Kostecki | 51:10.8641 |
| 23 | Chris Pither | 51:37.6506 |
| DNF | Fabian Coulthard | 49:25.2875 |