This is one of New Zealand's oldest motor races. Until last year, it was the oldest race to have been held at the same venue – by a huge margin. It was held at its venue for more than 34 years.
It may have been the only race to be chased away from its traditional start line (in 2018) by a cyclone that picked up mature trees and flung them into the tops of other trees.
It's widely recognised that it takes between 500 and 700 old-money bhp to win this race.
Most would say you need to be at least 25 years old to be in with a chance of victory these days.
The winning car and driver will clock upwards of 225 km/h in the faster sections of the lap.
That lap will also have sections where it's impossible to do the open road limit.
That car will have cost anything up to $100,000 to build, and will have upwards of 16 inches of suspension travel.
The lap will also take the leader and the fast bunch chasing him a strength-sapping 17-20 minutes to complete.
Gender truth: the winner will be a 'him' because this race has never been won by a woman.
It's the annual Woodhill 100 offroad race, an endurance race of up to 250 km in the logging roads and skid (log extraction) tracks of Woodhill Forest in Auckland's north-west. Always held on the Sunday of Queen's Birthday Weekend, the Woodhill attracts the biggest entry list of any round of the championship – up to 100 cars will take the start each year, compared to 65-75 at 'regular' rounds.
It is pretty much a sprint for the top guys – so if you need to fuel or change a flat tyre you are pretty much out of the running.
This year, as has been the case for the past half dozen events, the battle will be between the spectacular unlimited-class race cars and the light, agile 'side by side' or UTV racers. Four wheel drive race trucks may get a look in if anyone fast turns out – thinking specifically of North Shore's Raana Horan, who is a two time winner but divides his time these days between his family, business, Aussie offroad racing and his new fascination, the New Zealand rally championship, where he is running an R5 Skoda.
Other 'trucks' these days might include Nick Hall in his Toyota Chev Pro Lite, though with less travel than the mighty Nissan Titan of Horan it's a punishing ride under the trees. We might see Mal Langley from Whakatane – he runs a Toyota Tundra with a massive NASCAR-style Chev V8 and all wheel drive.
The bloke who's got most motivation to win, though is Tony McCall. He and the sport's Godfather, Ian Foster, are tied on wins in this high profile event and Tony would dearly love to become the 'winningest' of all Woodhill victors by dotting down win number seven this year. If he does that he stands a good chance of being the ultimate Woodhill Warrior for a very long time, possibly for ever.
He has the speed, his single-seater BSL race car and its LS series Chev V8 have the power and handling. He knows how to win this event – qualify on the front row, get in front at flag drop and then dictate the pace for the rest of the race, avoiding flat tyres and mechanical mayhem on the way.
When Tony started his run at the top of the sport, a Cougar-framed single seater with an Albins transaxle and 2.8 litre flat four was plenty of weaponry to win this race, and he made it look easy with back to back wins.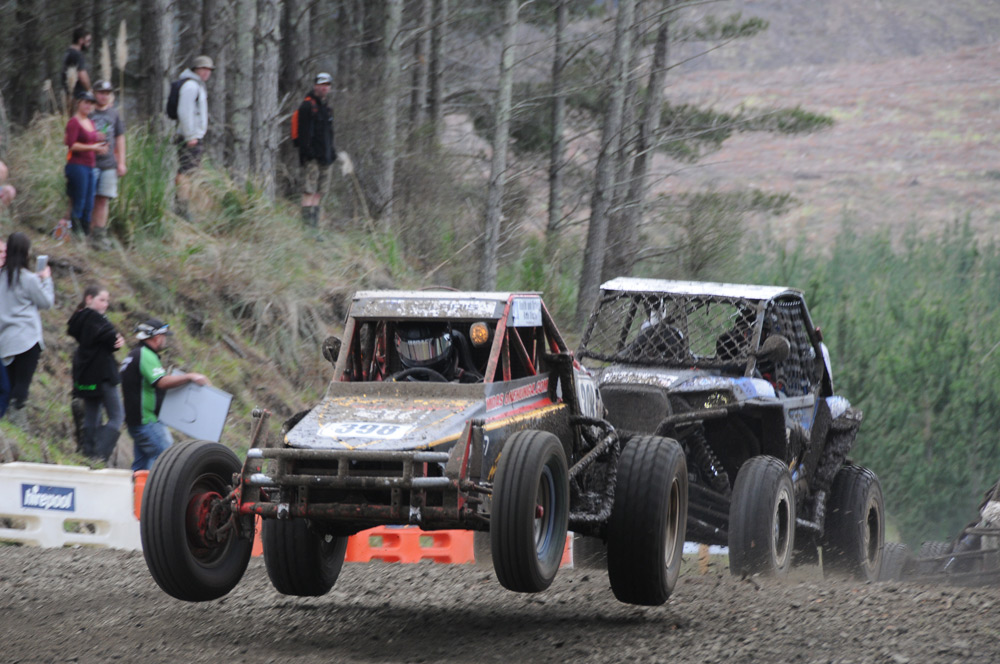 Now, he says, the landscape has tilted and there are likely to be up to a dozen unlimited-class cars there to challenge him, along with the top UTVs. Yamahas driven by of Joel Giddy of Silverdale and current champion Carl Ruiterman of Pukekohe. Polaris two-seaters and single-seaters driven by Ben Thomasen, Dyson Delahunty and Dion Edgecombe. Maybe even a few CanAm X3s, though these have yet to prove themselves in rough forest races.
Tony's assessment? The UTVs may challenge him in the opening laps, the trucks and four wheel drives won't; by middle distance he reckons he'll be dancing the big BSL car over the sand-tracks and hammering down the logging roads at 225 km/h thinking through his victory speech.